The day after our arrival, we visted Manitou Springs. It's a pretty little town at the terminus of a cog railway to the top of Pikes Peak.
---
The Pikes Peak Cog Railway has been in operation since 1891. The first locomotives were steam. Click to see the history of the line.
---
Cog or rack railways are used on slopes too steep to allow the trains to move by friction. The cog wheel is engaged as the slope increases. It meshes with the rack between the two rails.
---
As we travel up the mountain we looked over the prairies stretching to the east. The Garden of the Gods can just be seen in the center of the image.
(I haven't been very happy with the digitization of my original slides. If you are planning to digitize slides, I can't recommend ScanCafe. DigMyPics is better.)
---
As we climbed above treeline (c. 11,500 feet), the land became quite barren.
---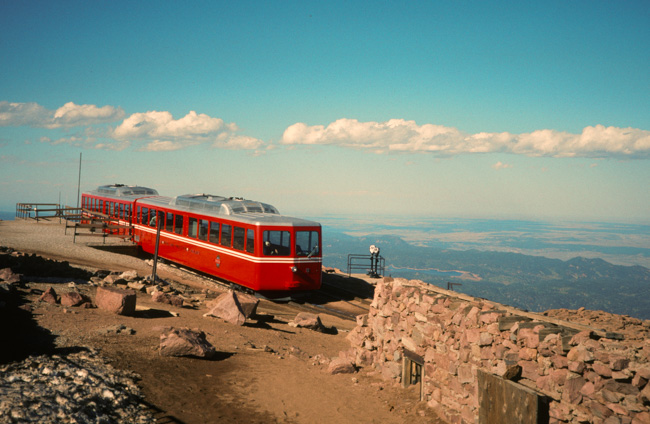 We have reached the top at over 14,000 feet! We had time to explore before heading back down. It is also possible to drive to the summit, but where's the fun in that for railfans?
---
The view to the south includes several reservoirs.
This area has recently been opened for the first time for fishermen and other recreational visitors.
---
Looking east toward Colorado Springs (on the right of the image).
---
As we started back down the mountain, I spied this yellow-bellied marmot hanging out in the rocks and remnant snow.
---
Click your "back" button to return to the previous page or click for our picture album.