I don't remember the year we took this excursion. The Georgetown Branch was active, although not busy, up to 1985 and abandoned in 1986. Looking at the rails in the pictures, they are rusty, indicating that they are not in regular use. Would a weekly train keep the rust away? I don't know. In any event, I've tucked it in with several other train excursions from 1985.
The line was slated for abandonment in 1983, the last train ran in 1985, and the tracks were pulled up the 1990s. The Capital Crescent Trail now follows the right-of-way from Silver Spring, MD, to Georgetown, DC.
---
Reconstructing the details of this tour has been harder than most. Much of what we saw has been demolished or replaced. Makes you feel old -- almost.
The freight station in Bethesda has been torn down. At least I cannot find it on Google Earth. Bethesda has been developed beyond recognition since the time of our excursion.
---
The gantry crane is also gone now.
---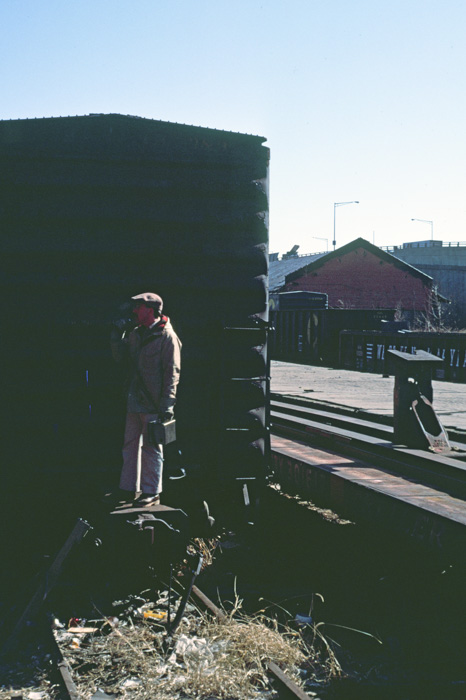 John Hankey giving background while standing on a railcar. At the time of our excursion, the line may have still been in light use or had only recently gone out of use. At the very least it still had rolling stock stored here and there.
After this period of orientation, we back-tracked into Silver Spring to visit the trestle over Rock Creek.
---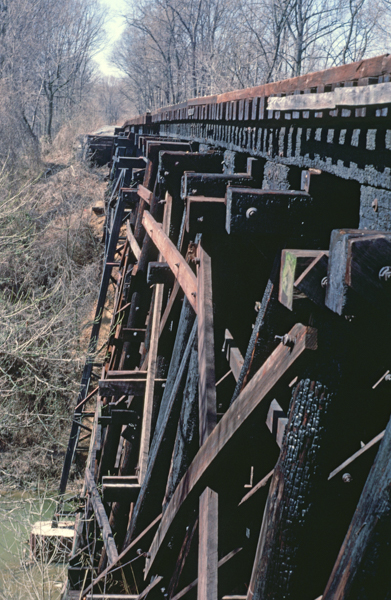 The trestle was once much longer, but the railroad brought in fill dirt on either side to stabilize it.
In the years since our visit the trestle was deemed unsafe and is now being replaced as part of the Purple Line construction. The trail, which is currently (2020) closed in this area, will be reopened parallel to the rail line when construction completes.
The charred timbers were from an arson fire in the 1960s.
---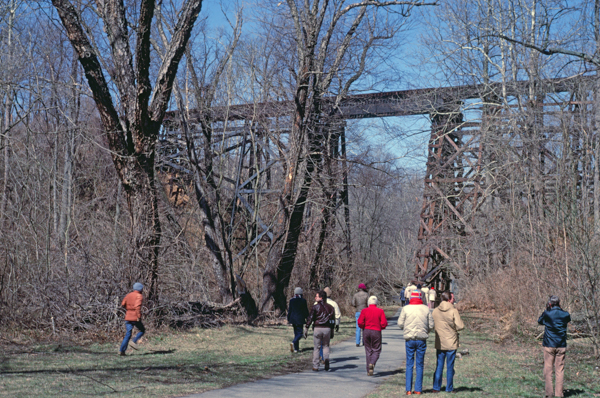 A view of the trestle from the creek level.
---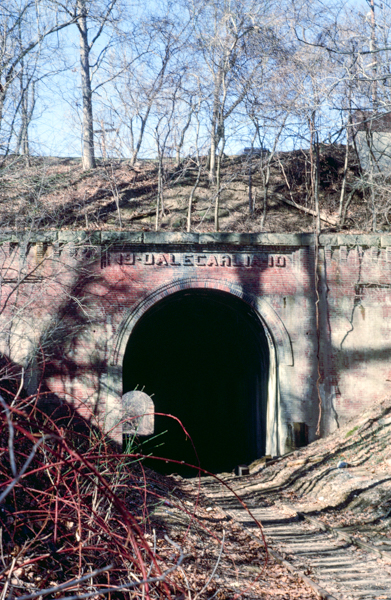 The Dalecarlia tunnel carried the line under McArthur Boulevard. According to a plaque now posted at the site:
The Roman arch brick tunnel is 18 feet wide by 341 feet long. Architectural features of note are the four "step backs" or "duck ins" in the tunnel providing protection to track walkers caught in the tunnel at train time. The construction date, 1910, is prominent in the brick at both entrances to the tunnel.
This is the south portal.
---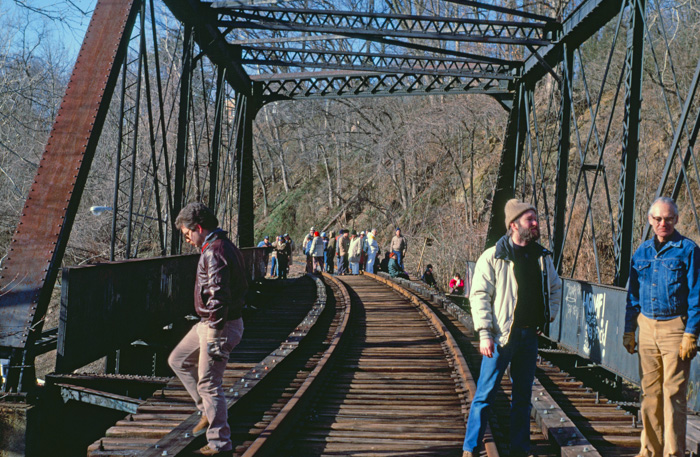 The trestle over Canal Road near the junction with Arizona Avenue seemed to be the end of our tour -- at least it was the last of my pictures.
---
Click your "back" button to return to the previous page or click for our picture album.