We left our home in Reston that morning with no notion where we would fetch up that night. Our game plan was to follow our whimsy.
---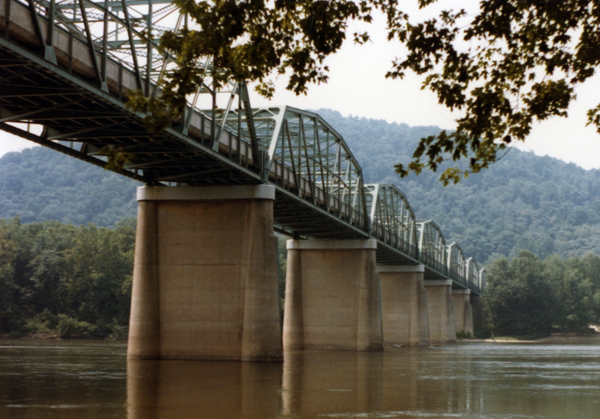 The first stop was Point of Rocks, Maryland. We've crossed the US15 bridge innumerable times on the way from here to there both before and after this trip, but this time we pulled over to a small park by the river.
A railroad tunnel and a picturesque train station had caught our eyes in earlier fly-bys and we wanted to check them out.
---
There's nothing quite as peaceful as sitting in the shade watching water flow. How often do we take the time to do that?
---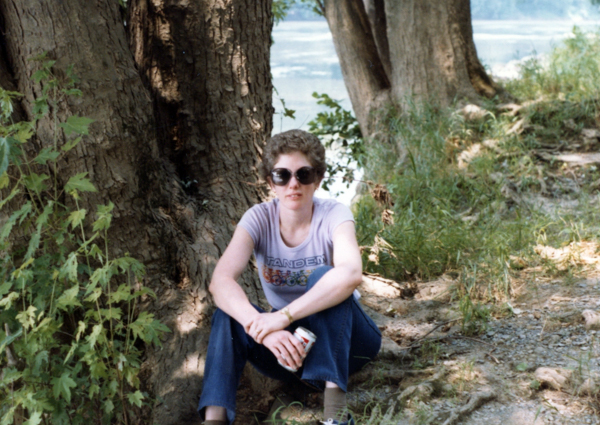 The park seemed to be a favorite picnic stop based on the full trash cans. Someone had artfully arranged a desiccated steamed blue crab on a post by the parking lot. We wondered how long it had overlooked the scene.
---
I don't remember if this was after our fascination with Smithsonian train adventures had begun or if it was the inspiration for it, but we were thrilled to see a train passing through the Point of Rocks tunnel.
At the time of our exploration we knew little about the C&O Canal or the B&O Railroad. That would change over the coming years.
---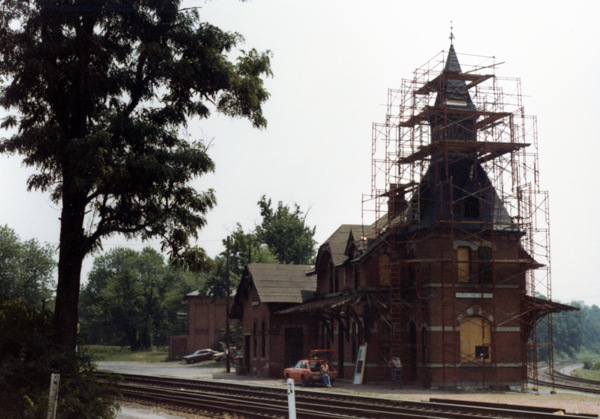 The beautiful Point of Rocks railway station had been placed on the National Register of Historic Places in 1973. At the time of our visit the CSX Railroad was restoring it for use as an office building.
It is perhaps the most photographed station in the country. Check the link for better pictures and descriptions of its construction.
Satisfied with our program so far, we continued a short way north on US15 before coming to the turn-off for MD464. We had always wondered about it. The sign pointed to Brunswick, MD. Away we went.
Whatever thoughts we had about Brunswick were derailed by a road sign pointing to Charles Town, WV. We were off to the races — by way of Harpers Ferry, WV.
A visit to Brunswick remained on our list until we visited the railway shops there as part of a Smithsonian excursion.
---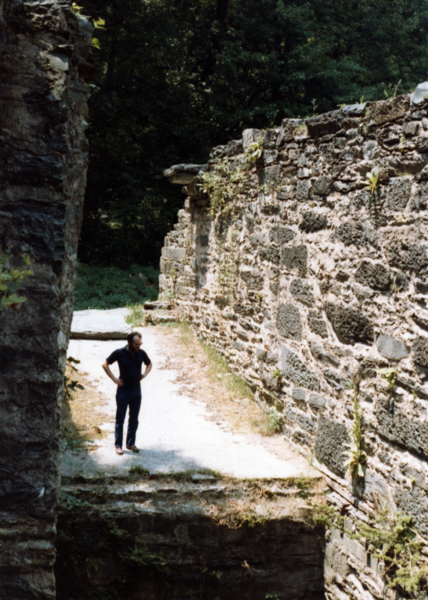 I can no longer remember exactly why we stopped at this site. By prowling Google Earth I believe these are the ruins of the Shenandoah Pulp Mill near Harpers Ferry. The Library of Congress has an online collection (opens in new tab) about this mill that includes pictures of the ruins and a drawing of what it looked like before its destruction.
---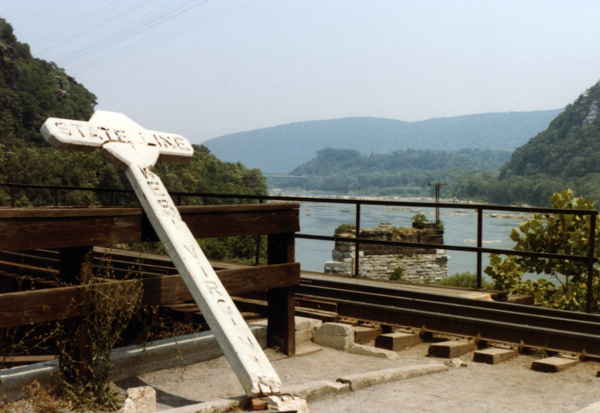 The Shenandoah and Potomac rivers join at Harpers Ferry. Additionally the states of Maryland, West Virginia, and Virginia meet there. It was a strategic location and a hub of commerce starting in the early 18th century.
The name comes from an early landowner, Robert Harper, who ... wait for it ... ran a ferry across the Potomac in the mid-18th century.
---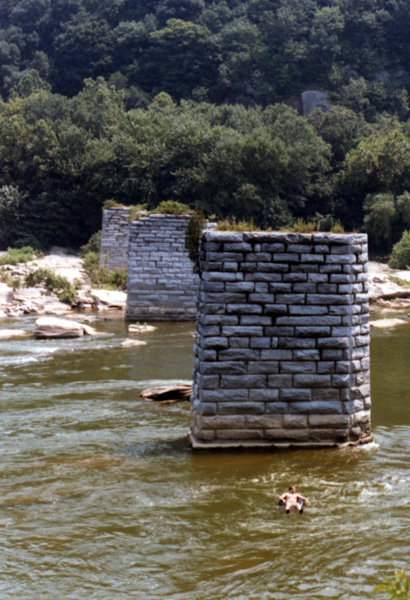 Tubing on the Potomac and Shenandoah is a popular summer pastime with many outfitters available to offer logistics and support. We've never gotten around to participating in one of these excursions.
Nowadays it's a madhouse. I've driven by Harpers Ferry many times on my way to Frederick, MD, for horse association meetings. We have to allow extra time in the summer because of traffic congestion.
---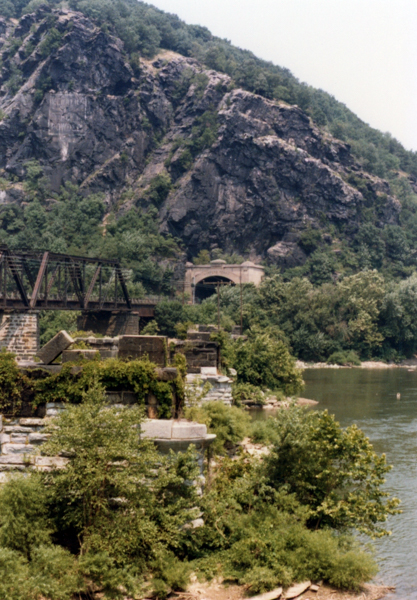 Prior to the Civil War, Harpers Ferry was the site of the only rail line crossing the Potomac River and connecting the northern to the southern states. The bridges (or their ruins) are now a state historical site.
---
Although we explored the historic town briefly, it wasn't until we returned to Harpers Ferry on a later Smithsonian rail tour that we spent much time there.
---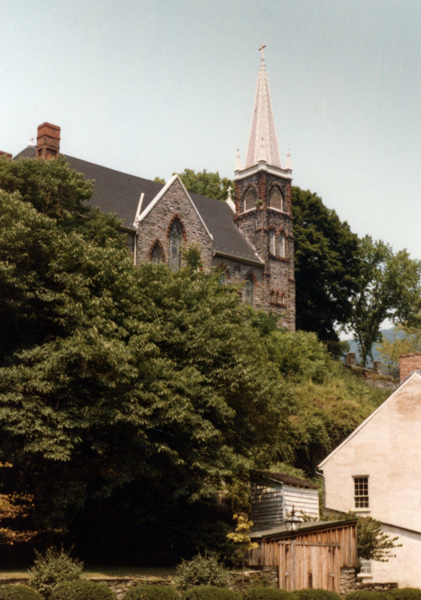 St. Peter's Catholic Church overlooks the lower part of the town.
---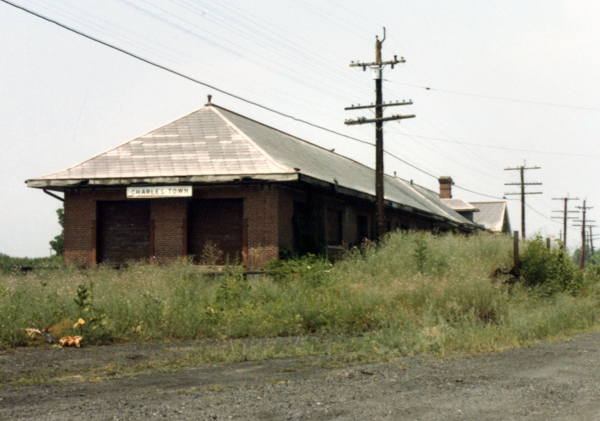 After our short stop in Harpers Ferry we were off to the races in Charles Town. I don't remember if this was the time that Jim's horse kicked the starter, dumped his jockey, and spent the next 10-15 minutes eluding all attempts to corral him. Jim picked a lot of horses like that. Racing is a small part of the gambling offering at Charles Town now, but at the time of our visit it was the only game in town.
The Charles Town train station was in a ruinous state and I cannot find that it has since been restored. All the nearby train service is out of either Martinsburg or Harpers Ferry. I also haven't been able to find it on Google Earth, so it may have been demolished -- the fate of many historic train stations.
After a night in Charles Town we were back on track, so to speak, to Cumberland.
---
Click your "back" button to return to the previous page or click for our picture album.