Over the years before moving to California, we took every opportunity to visit Lake Tahoe for skiing -- especially in the spring. Our favorite of the many areas there was Alpine Meadows.
---
The Sherwood area on the back side of Alpine gave the best view of Lake Tahoe, although this hazy day makes it a challenge to see.
---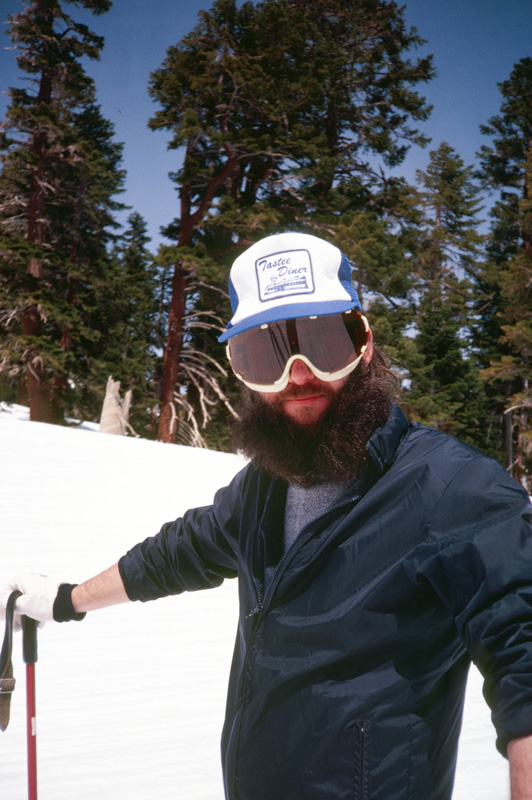 Jim in his spring skiing outfit. By this time we had learned the hard way to always wear gloves while skiing -- even if it's only garden gloves as seen here. In those pre-helmet days our spring headgear was baseball caps.
The Tastee Diner in Fairfax was one of our favorite weekend lunch hangouts. It has long since closed, but the chain is still alive in Maryland. We only made it to the Silver Spring location a couple of times. If we were in the Silver Spring area, we almost always headed for Crisfield's.
---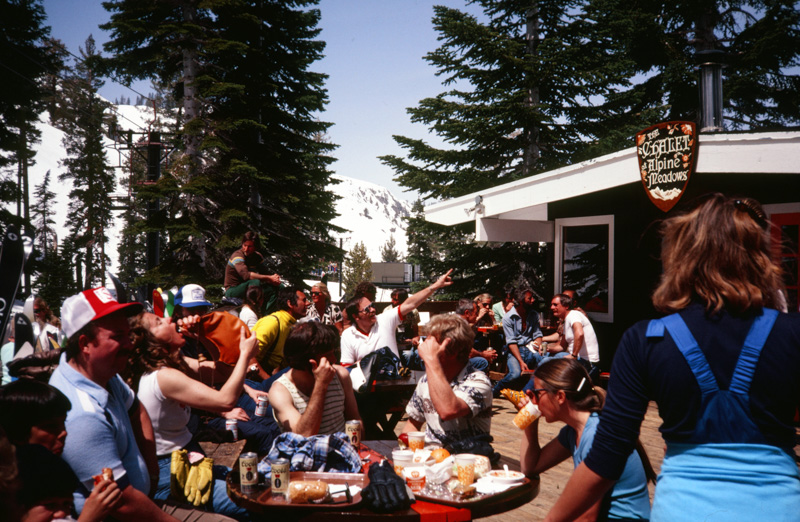 The Chalet was once the only on-mountain eatery at Alpine. It may still be. (No, I don't know what they are pointing at.)
---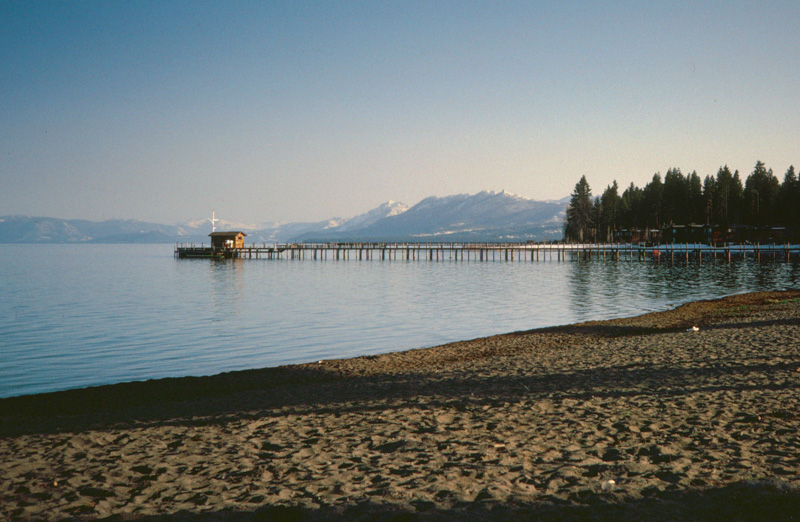 After enjoying a couple of days at Alpine (skiing on a half-price ticket because of the spring conditions), we decided to make a trip south to try out Heavenly Valley. Since the spring was well-advanced, the road along the western shore of the lake was open. In those days it was closed in the winter for most of its length because that side of the lake had never been developed. I don't know if that is still the case.
This is the beach at Tahoe City on the north shore of the lake.
---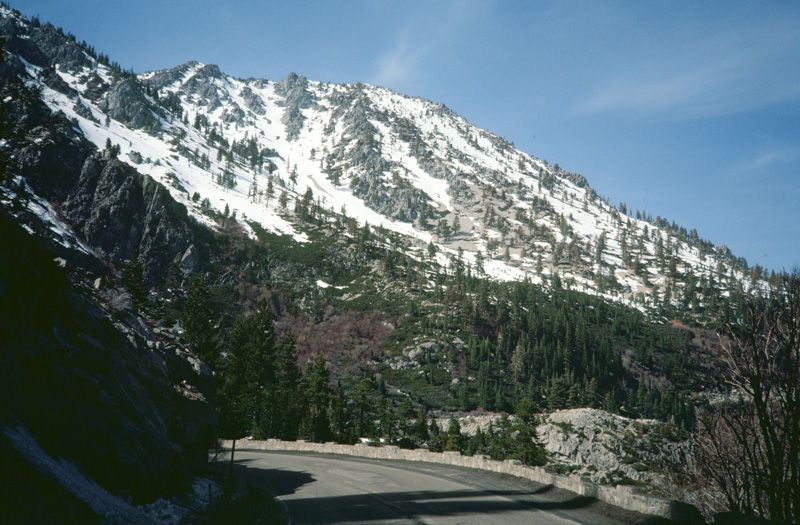 It is a lovely drive that takes much of the day. The east shore of the lake is heavily commercialized, but you don't see that here.
---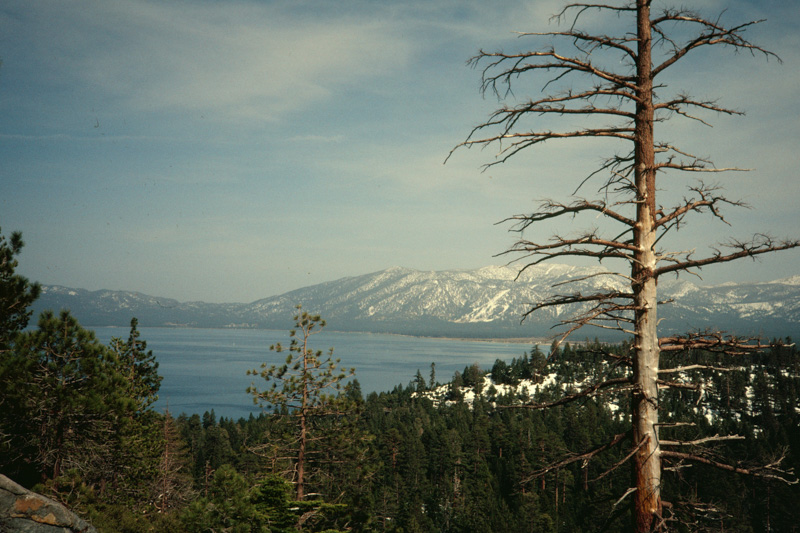 Looking across the lake to the slopes at Heavenly Valley.
Heavenly is the major "destination resort" at Tahoe, but it is the one area around the lake that we have never skied. When we arrived there, the slope conditions were pretty marginal and the lift tickets were full price! Plus the staff person we dealt with was rude. We never went back.
But we didn't know that yet so we were just enjoying the drive and the gorgeous Sierra scenery.
---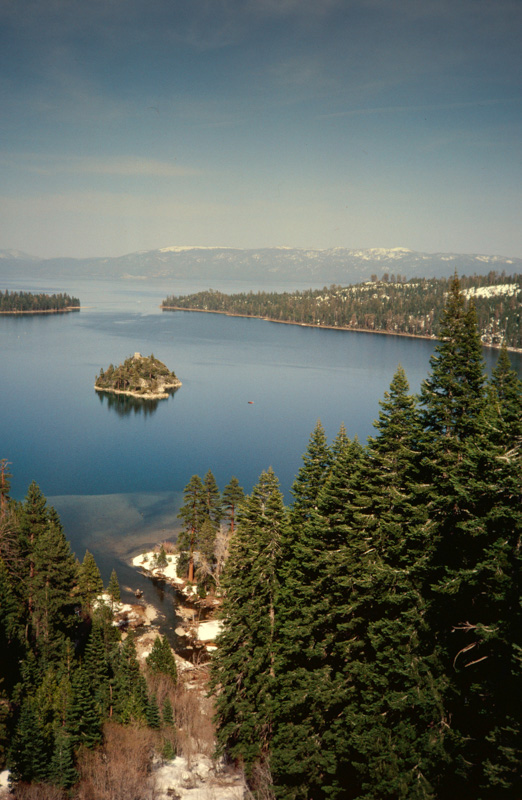 Emerald Bay is a California State Park and a National Natural Landmark.
---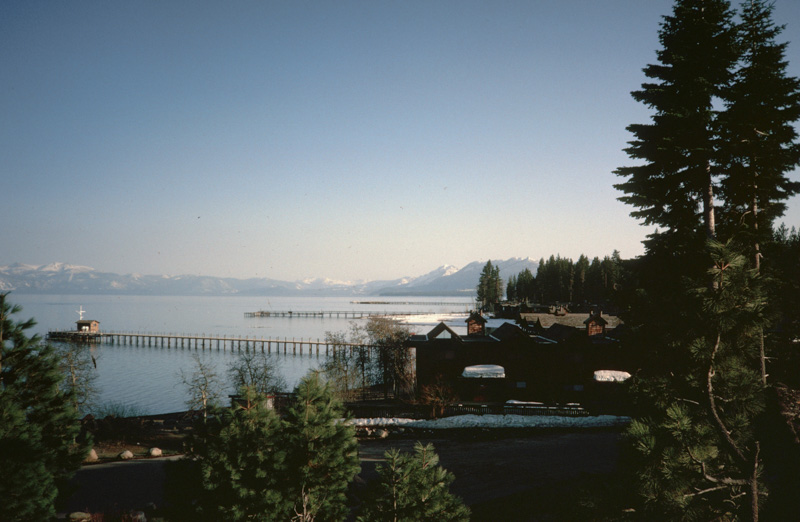 South Lake Tahoe is on the Nevada state line. Therefore it has gambling. Lots of gambling.
We made our first and last stay in a Motel 6 here. Jim was always in the market for a cheap place to stay. There's cheap and then there's cheap. I put my foot down on ever trying it again. Perhaps they've improved over the years -- I'll never know.
On the plus side, at check-in we were given a roll of nickels to play the slot machines and some discount tickets for food and drink at nearby casinos. We used up all our discounts and played the nickels for as long as they lasted and then went to bed.
The environs of South Lake Tahoe did not get much money out of us!
---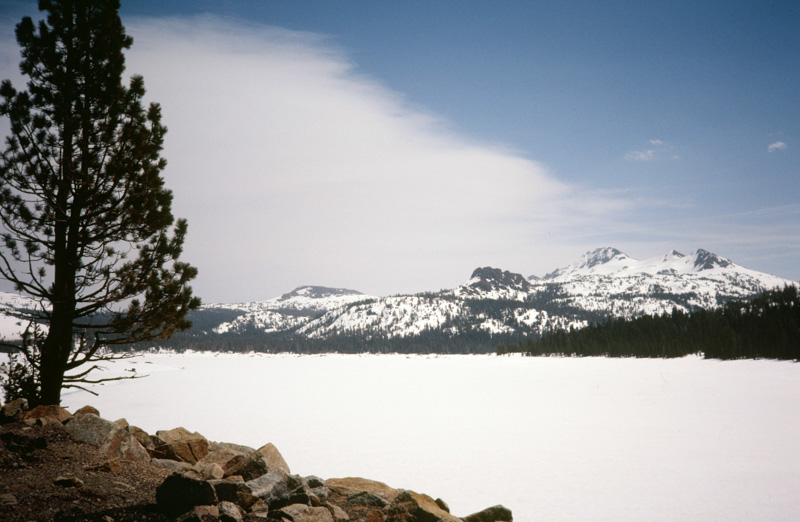 Rather than make our way back north to I-80, we drove back to the Bay Area on US-50. It was a very scenic drive. I think this is Echo Lake, which is still frozen.
Lake Tahoe never freezes because of a variety of reasons that can be summed up in the low surface to volume ratio due to its depth and in the relatively mild climate of the Tahoe basin. Nearby lakes like this one and Donner Lake do freeze. Even Emerald Bay, which is much shallower than the main lake may freeze in a particularly cold winter.
The Kirkwood Ski Area is south of Lake Tahoe. It is a favorite with Bay Area skiers, but we never skied there. There were very few places to stay. Nowadays there are numerous condos to rent.
---
Click your "back" button to return.