Not long after we were married we established an annual tradition of travelling to Mississippi to spend a week with my folks. Often these trips included a couple of days in New Orleans -- sometimes with my folks, sometimes on our own. This is the record of a trip we took in 1980.
---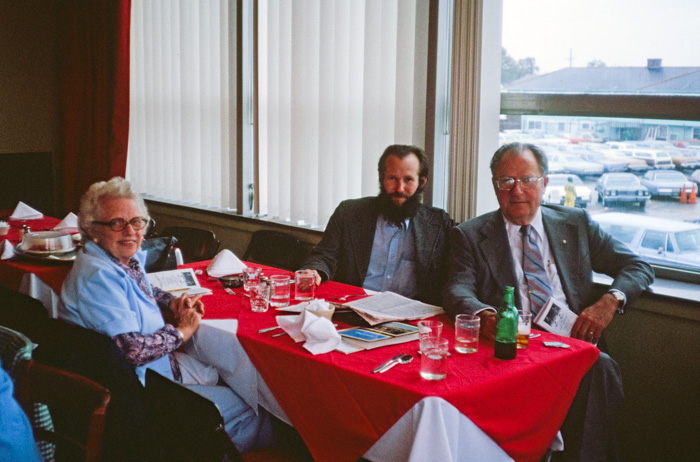 First, however, this photo is from the fall of 1977. I don't remember whether our New Orleans trip that year was in conjunction with a Gulf Coast trip or not.
We were at the the Fairgrounds Race Track to try our luck. I suspect we had more good times than luck.
---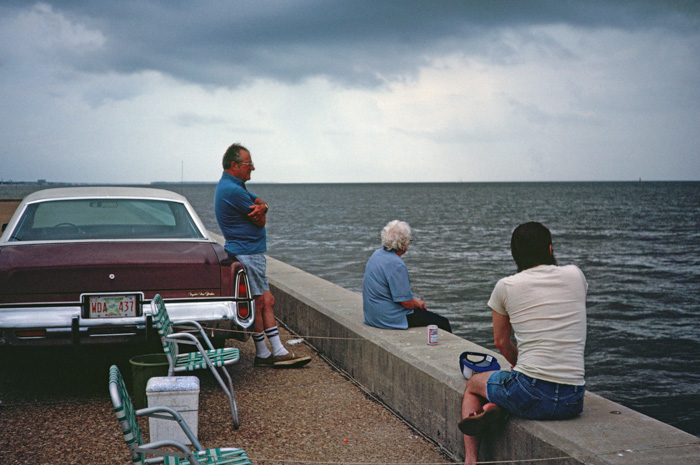 Our primary recreations during our times on the Gulf Coast were crabbing, drinking, eating, and playing bridge. There were several crabbing spots that we enjoyed. This one is the Broadwater Beach Marina. Many of those spots, including the Broadwater Beach (BB) itself, were destroyed by Katrina. Even before that time, however, the casino that had purchased the property had pretty well trashed it.
At the time I'm revising this travelogue in 2020, it appears there is yet another effort afoot to restore the resort. I wish them luck. There has also been a video made about the resort's glory days.
The crabbing wasn't great at the marina, but it was just across the street from the hotel and it was a great place to chat, drink beer (or gin & tonic) and, as my mother always put it, listen to the sad sea waves.
---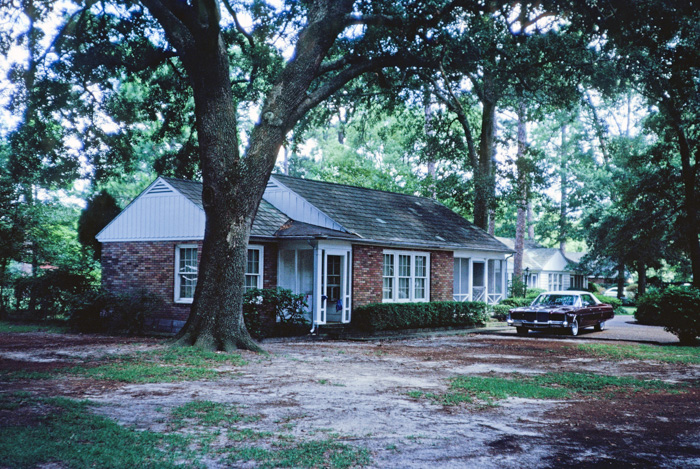 We always requested cabin #305 because it had great shade and two separate bedrooms. In the early years of our trips the BB was still a thriving operation and we needed to put in our reservation a year in advance. They never promised that we would get it, but there was only one year when we did not.
The hotel declined over the years and was a mere shadow of its former glory by the time Katrina took it out. Shortly before my father died in 1989 we decided to stop going because it was just too sad.
---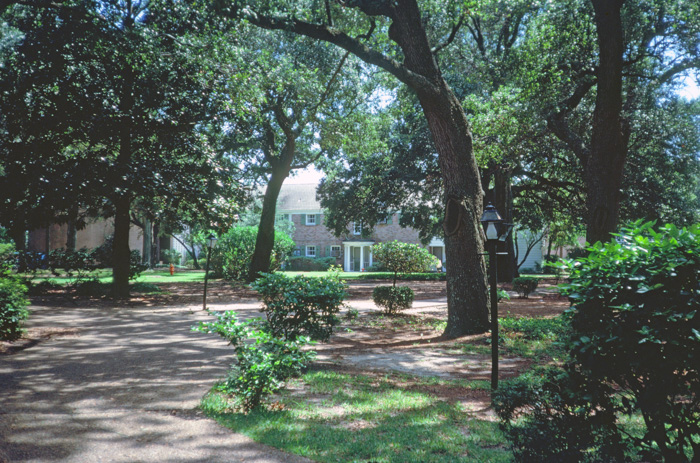 The view from our front porch.
Although many of the beach hotels had views of the water none of the cabins did. That was OK with us.
When we weren't crabbing, eating gumbo, or drinking, we played bridge. Jim and I weren't skilled players, but we had located a very fine bridge "cheat sheet" that enabled us not to get too badly beaten.
---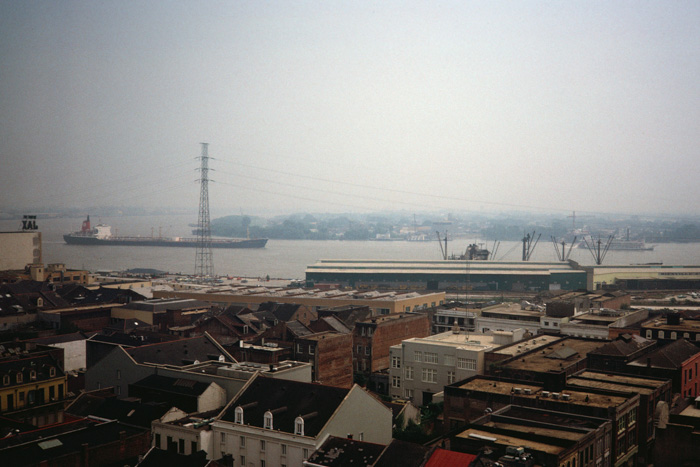 When we traveled to New Orleans we stayed, as usual for my family at the Monteleone. My father always asked for a "room above the 5th floor with a river view" and almost always got one. We've done the same since.
This was a typical view with the French Quarter in the foreground and the ships plying the river.
---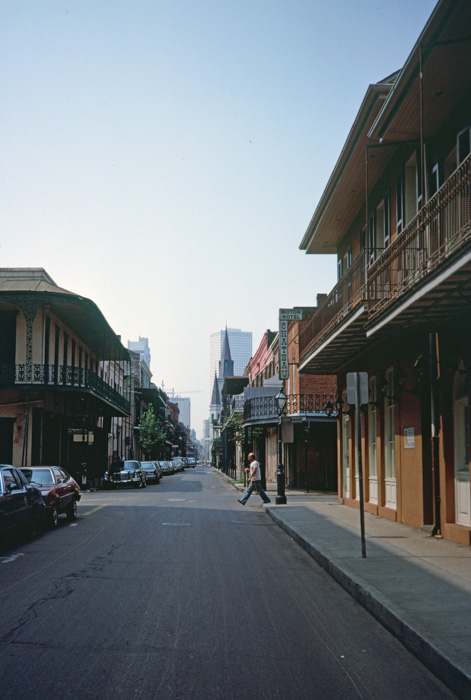 Looking up Chartres Street toward the St. Louis Cathedral and the modern city that begins at Canal Street. The street name, by the way, is pronounced CHAR-ters.
---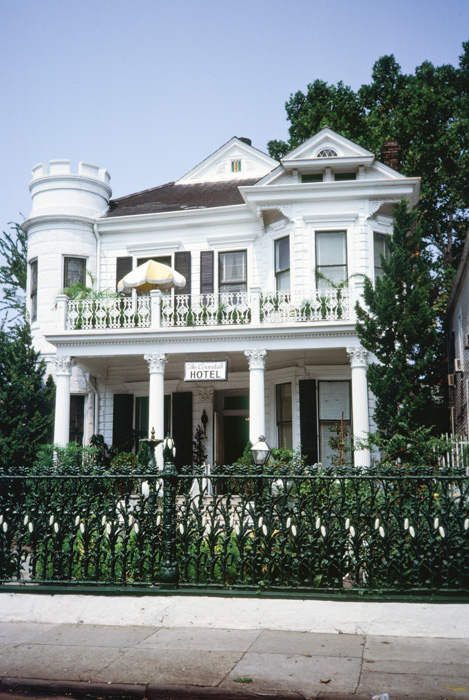 The cast-iron fence in front of the Cornstalk Hotel has fascinated me since I was a child. For all of my life we believed that my mother's family was descended from Jean Baptiste Wiltz, a New Orleans blacksmith. I used to fantasize that he had prospered making many of the famous iron balconies in the old part of town.
Alas, Ancestry DNA says it ain't so. There doesn't appear to be a drop of Wiltz blood. Ah well. I still find the cornstalk fence fascinating.
---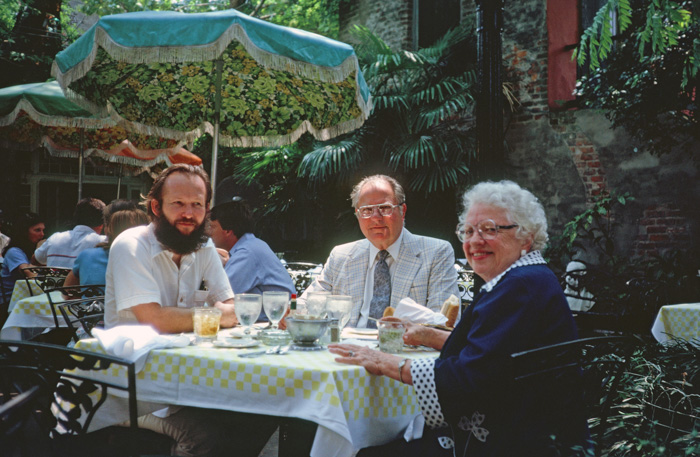 Sunday brunch at Commander's Palace. Love those eggs sardou!
---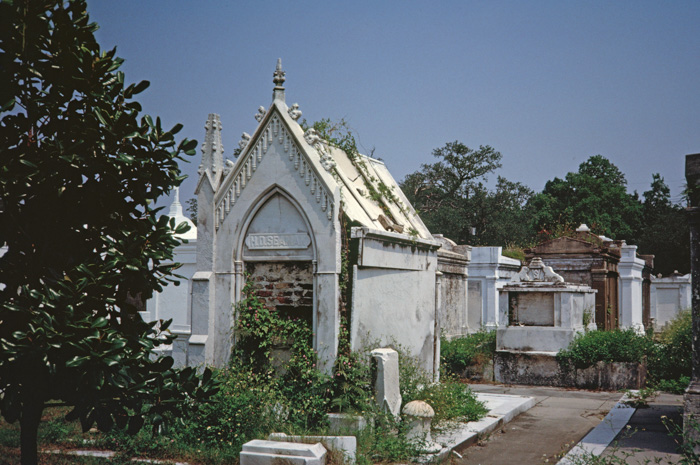 The Lafayette #1 cemetery is across the street from Commander's Palace. I'm attracted to cemeteries in general and the above-ground ones in New Orleans in particular. All burials must be above ground due to the high water table. The city itself is below sea level.
---
What better way to return home after a good brunch and cemetery crawl than on an historic St. Charles Avenue streetcar?
It claims to be the oldest continuously operating streetcar line in the world.
The Gulf Coast, and even New Orleans, has changed so much in the intervening years. Sometimes I would like to go back, but that is not possible.
---
Click your "back" button to return to the previous page or click for our picture album.