On this trip I had my fanny pack to take my camera for pictures in the Zürs region, which I had not been able to do on the earlier visit.
---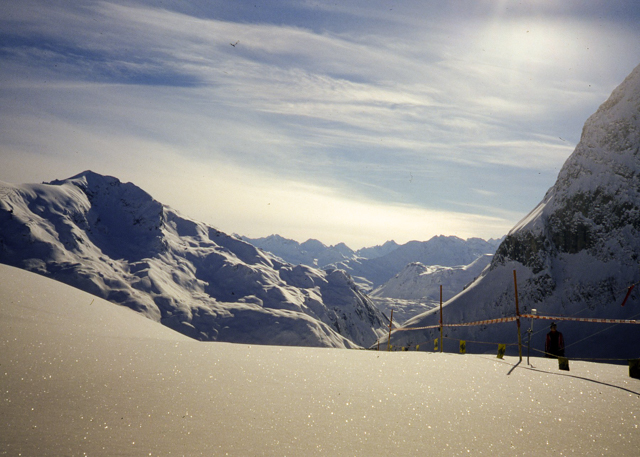 According to the note on my slide (I finally got them digitized in 2013) this is the Seekopf lift, since replaced by a chair lift.
I do not lament those long drag-lifts common in those days!
---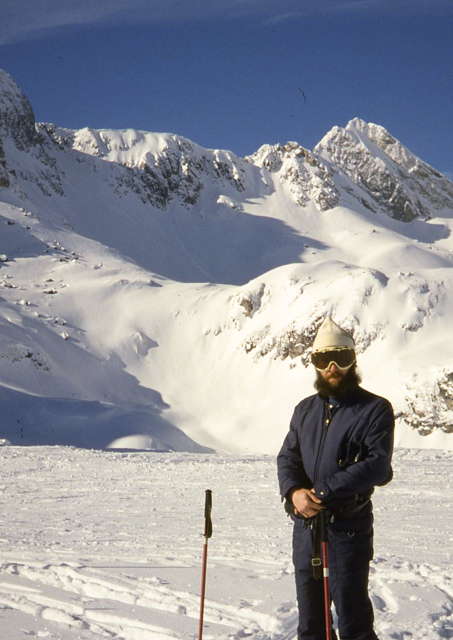 Jim at Seekopf.
He is wearing a "PVS" ski hat in these days before helmets. The fact that he is wearing a windbreaker rather than a jacket means it was quite warm.
---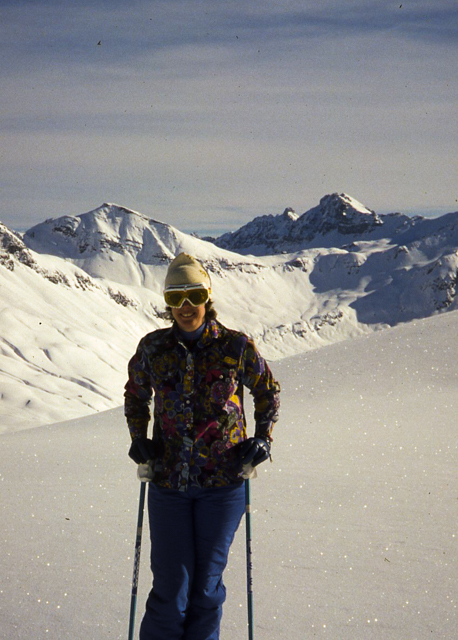 Me ditto. I am still using the same ski poles in 2019! They are K2 poles (somewhat shorter than typical) with Scott grips. At least I use them when I pony up the checked baggage charges to take my own equipment to the slopes. When I'm too cheap to do that, I don't usually miss my skis. I always lament not having my poles.
---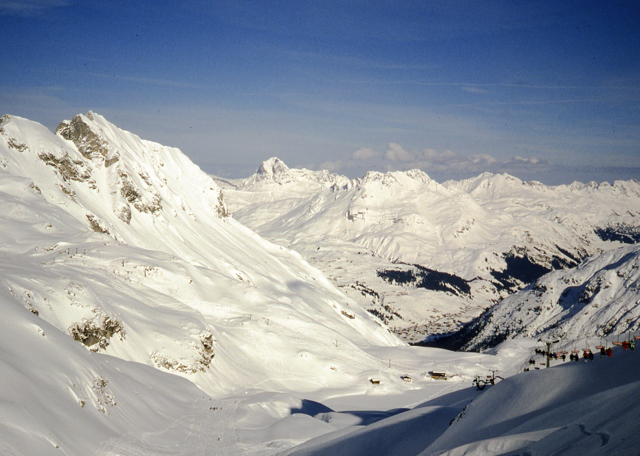 From Seekopf, we went up the Muggengrat chair. This was the view down the valley toward Lech.
As we found out in our second week in Innsbruck, this was not a good snow year for Austria, but there was no lack of snow here!
---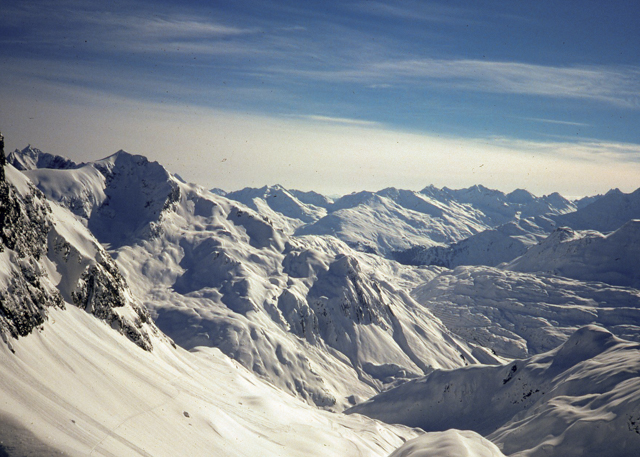 So much of this beautiful terrain is not skiable, but it is lovely to look at. On this day we had planned an expedition to Lech. By the time we reached the Madloch-Joch to pick up the trail down the valley, we were over 3000 feet above Lech.
I no longer remember the exact route we took down (there were many options), but I do recall one marvelous sight. We were skiing down a trail and saw a number of folks stopped. We stopped too and looked where they were looking. There was a chamois perched just above the trail looking back at all of us!
Alas, I couldn't get my camera out quickly enough.
---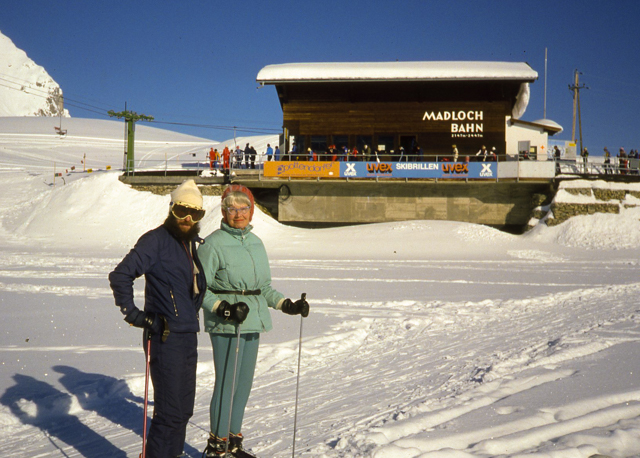 Our friend Jenny Larsen joined us for the expedition.
Back in those days when we were youngsters ourselves, PVS friends "of a certain age" were a real inspiration. Jenny was not only a good skier she was an accomplished ice skater. We miss her!
Even now that we are a certain age ourselves many of our older PVS friends are STILL an inspiration. I hope we might inspire others younger than we are.
---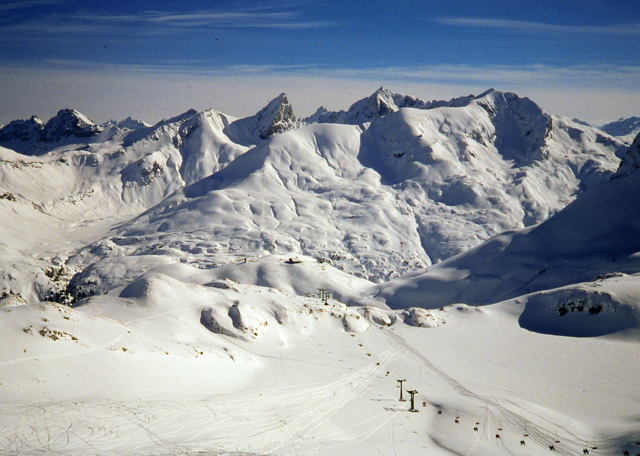 This is the view back toward Seekopf from the top of the Madloch. Zürs is in the valley beyond the base of the chair.
---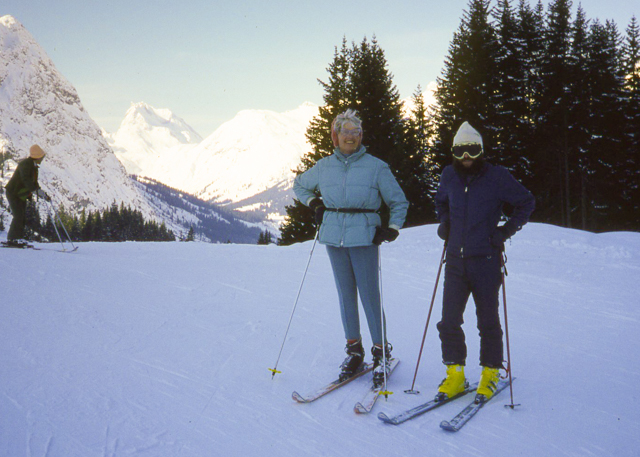 Farther along the trail to Lech.
---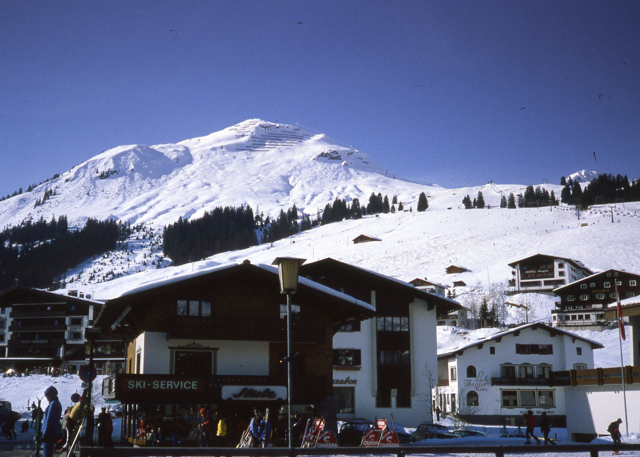 After our lunch in Lech Jenny and I went to pick up our coats and managed to get locked into the coat closet! Pounding and calling didn't rouse any help.
It wasn't until Jim came looking for us and notified the restaurant staff that we escaped. Neither Jim nor I can remember if they had to call a locksmith to get us out.
---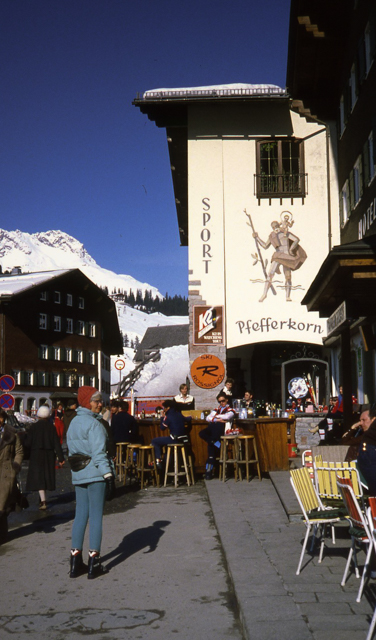 Unlike Zürs, which consisted solely of hotels, restaurants, and bars, Lech was a real town – although primarily devoted to tourism. After our escape from the coat closet we enjoyed a walk around looking at shops before heading back to Zürs.
---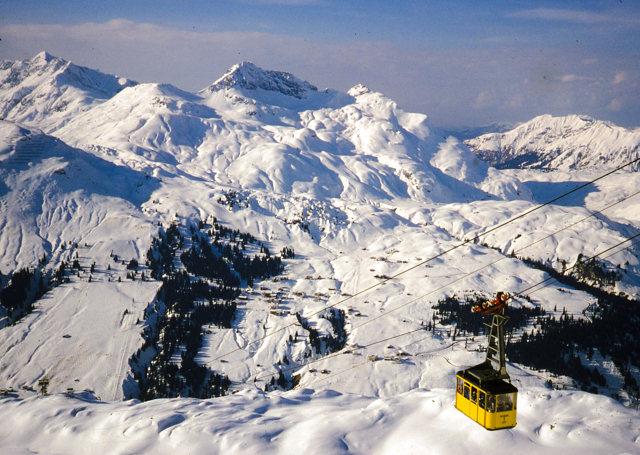 Since Lech is over 800 feet lower than Zürs, we had to take the Rüfikopf tram to gain enough altitude for the trip back. Even so it was a pretty flat run.
As best I can tell from looking at a modern trail map, the peak in the center of the picture is the Mohnenflüh at 8000+ feet altitude.
---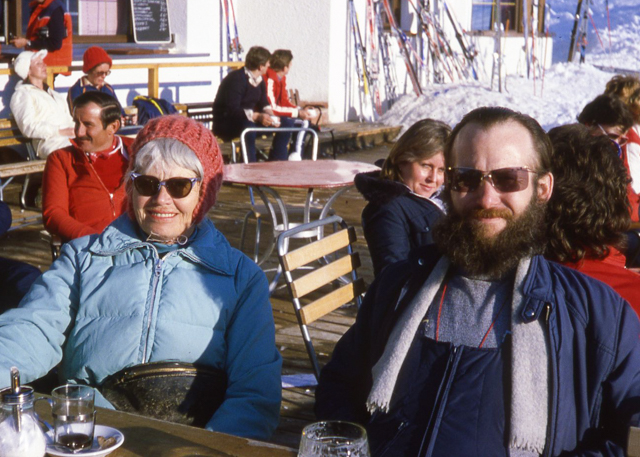 Even though the road back wasn't strenuous, it was long so we welcomed the opportunity for a break.
We tell folks that one of the best features of European skiing is the travel from village to village with plenty of little "refugios" in-between.
---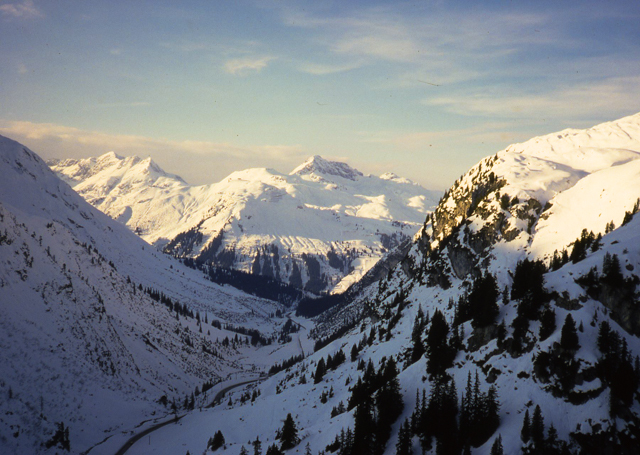 We're almost back to Zürs. This is looking back down the valley road toward Lech.
It was a great day.
I don't know why PVS has never been back to this area because it is one of the best in Europe. There are no plans for next year, but maybe the year after....
---
Click your "back" button to return to the previous page or click for our picture album.