The first week of our trip was spent in Austria.
---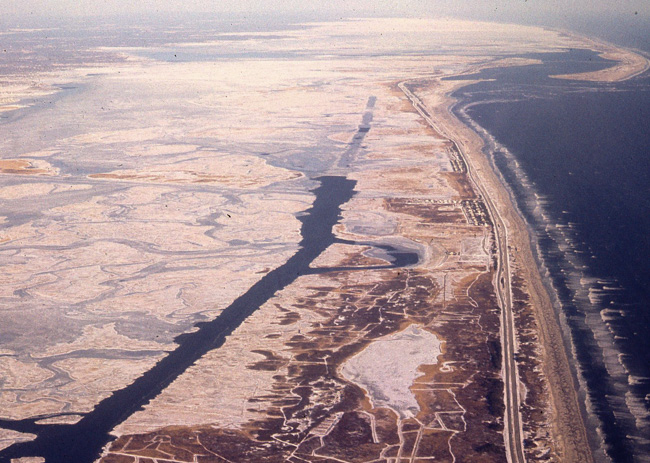 The winter of 1977 was brutal. The week prior to our wedding on 15 January was bitter cold and snowy. I was sure that our entire family was going to be killed en route to Virginia, but no one was. My cousin Fran and his wife Judy, who had planned to fly down from New Hampshire, however, weren't able to make it due to airline cancellations.
As we began our flight to Zürich three weeks or so later, we saw portions of the Chesapeake Bay frozen over. This shot is of the salt marshes behind Jones Beach on Long Island.
---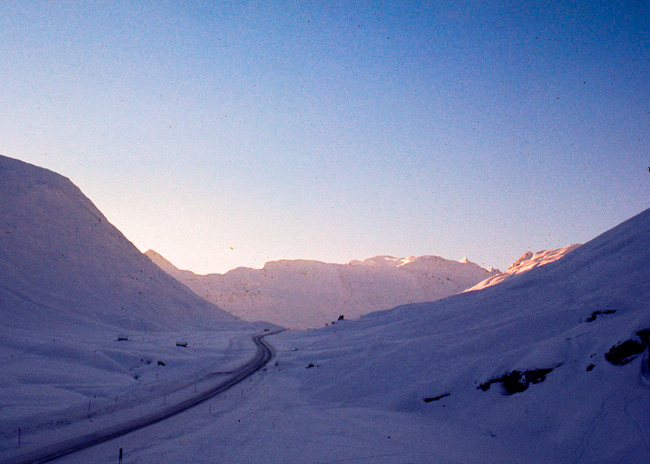 European skiing is usually above the tree line. Zürs, Austria, is itself above the tree line.
I took no pictures of the skiing in Zürs or Lech, which was just down the valley as I had no way to take a camera onto the slopes. It wasn't until later in the trip that I purchased a fanny pack to hold my camera.
This is the road out of Zürs toward the Arlberg Pass.
It was a VERY good snow year!
---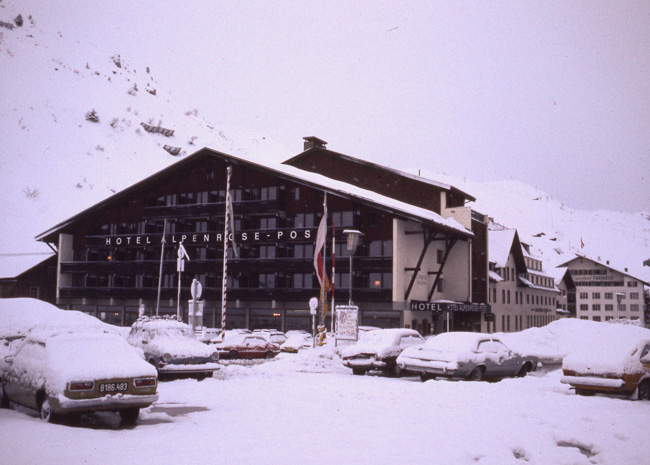 Our home away from home was the Hotel Alpenrose. It was a marvelous place and within walking distance of one of the major lifts. Unfortunately for me, who was still a beginning skier, that lift was a mile-long T-bar!
Other people may talk about "the good old days," but skiers are not nostalgic about old-style lifts or old-style equipment.
Some years later Margaret Wyckoff investigated the possibility of another trip to Zürs, but the Alpenrose had been turned into a private club. We would have enjoyed a return visit and would be happy to stay in Lech, but it was not to be.
---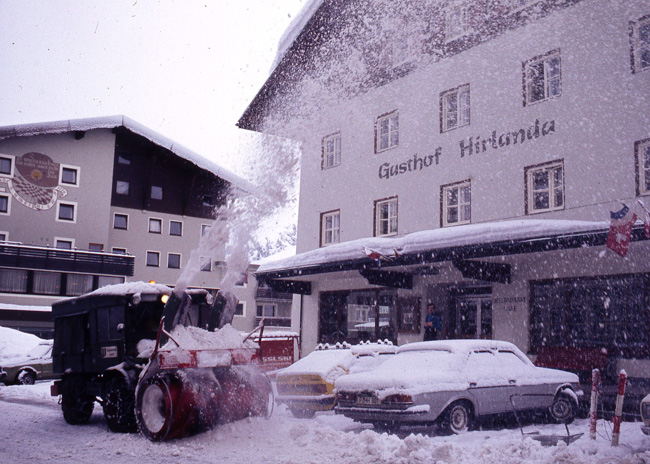 Throughout the week there was more snow, typically overnight. The most massive snowblower that this Mississippi native has seen before or since kept the roads clear.
---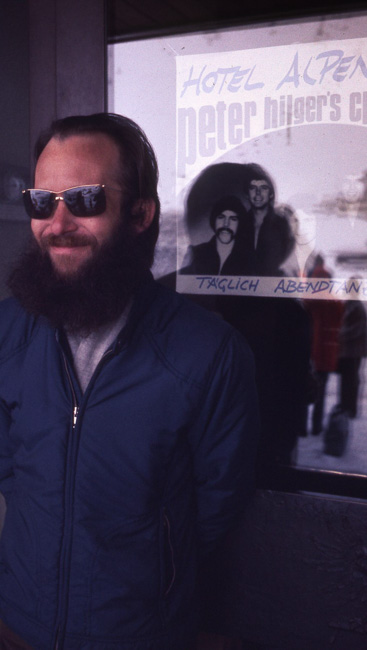 Waiting for our bus for the trip to Italy for the second week of our trip.
From a distance of well over forty years, it is amazing how young we were. And in Jim's case, how hirsute!
---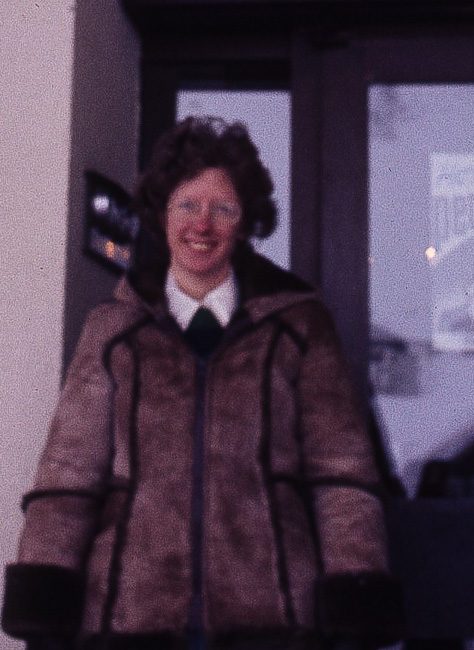 Not a grey hair in sight!
---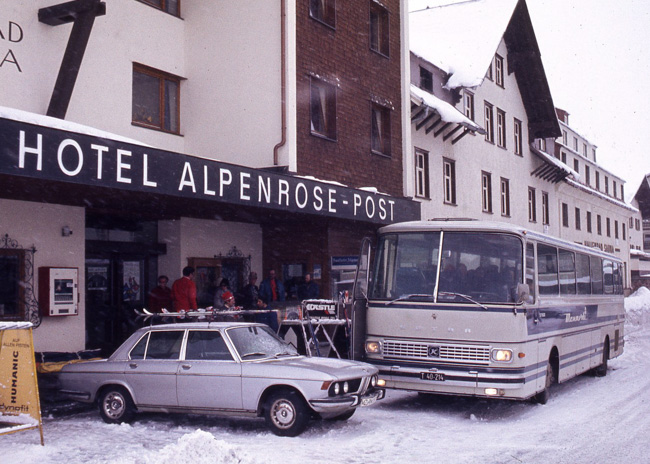 Loading the bus for our trip to Italy.
You can't see them in this image, but PVSers include Margaret & Bob Wyckoff, Jim, and Art Topping.
---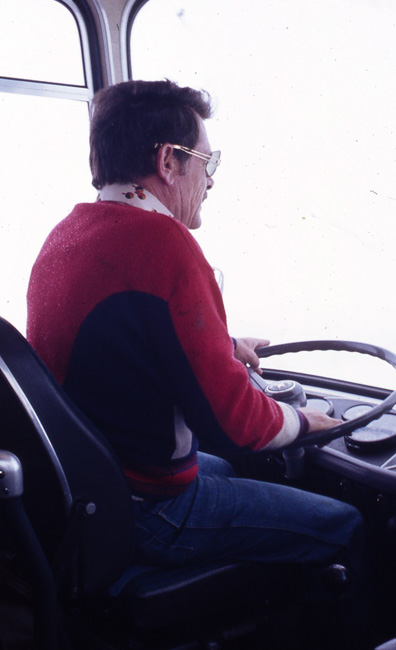 Ozzie was our trusty bus driver. He was a font of information about the history & politics of the Tyrol besides being a fabulous bus driver.
---
Since this time we have been on many bus trips into ski country both in the US and Europe and Ozzie stands out as the best. The conditions were horrible with heavy snow. Chains were needed to get us over the Arlberg Pass. It was a slow trip.
Once we got closer to our destination in Italy, the narrow road snaked along a steep slope. Every time we encountered opposing traffic there was an intense negotiation over the right of way. Ozzie usually won.
We had been advised to take a bottle of Schnapps for the trip – good suggestion!
---
Click your "back" button to return to the previous page or click for our picture album.