Our next destination was Provincetown, Massachusetts, where we would meet up with Anne and Alan.
---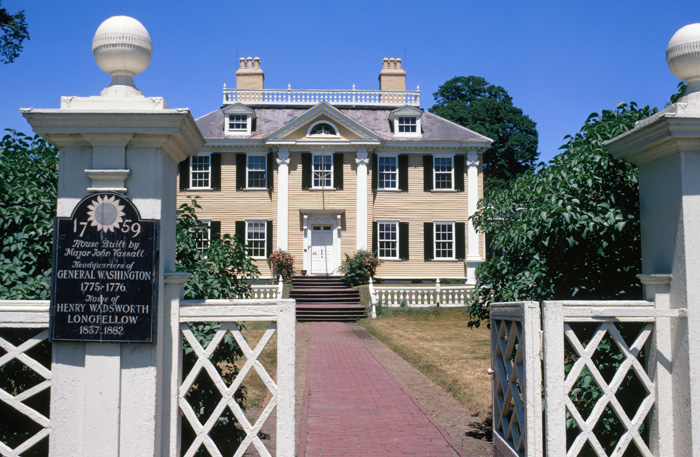 Our first stop, however, was the Longfellow House in Cambridge. I don't remember a thing about it, but I've got two pictures, so we must have been there.
Every now and again I'll see a rant on the web about photographers being too focused on taking pictures rather than "enjoying the moment." This has only worsened now that every cell phone is also a camera and pictures are constantly uploaded to Facebook, emailed or Tweeted. Google "stop capturing the moment and just enjoy it" to get your fill.
As for me -- taking pictures is in fact one of the ways I enjoy the moment. Get over it, world!
---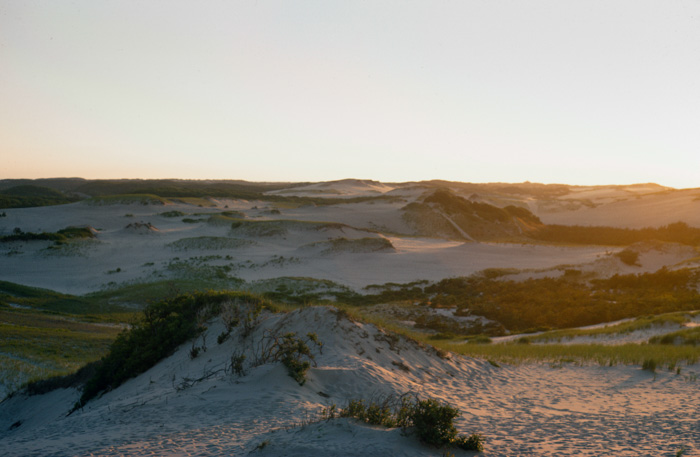 On the other hand, the sand dunes of Cape Cod are vivid in my memory, and I am disappointed that I don't have more pictures. Hmm. Maybe I was too busy "capturing the moment!"
---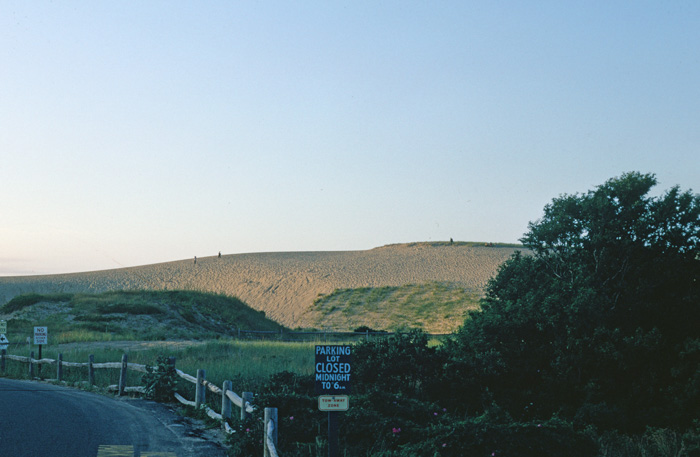 It's not allowed any more due to potential danger to participants and erosion of the dunes, but the thing that I remember most was climbing to the top of these dunes and jumping off!
Nowadays I get the same rush from skiing, but this was my first experience of near-free-fall. There is still some controversy over whether this practice really does damage the dunes more than Mother Nature.
---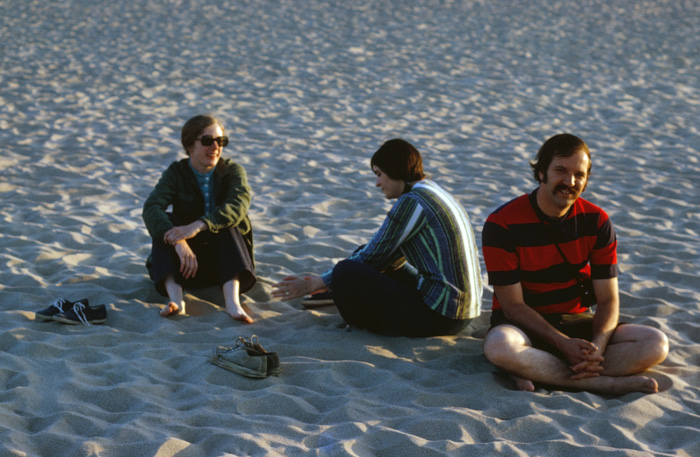 Me, Anne & Alan.
All of the dune-jumping was done barefoot. It wasn't until too late that we realized that our feet were being sandpapered to the quick! The next morning we went to the beach and waded in the salt water. OWWWW!
It was a couple of days before I could walk without pain.
Is it my imagination or do my poor feet already look inflamed?
---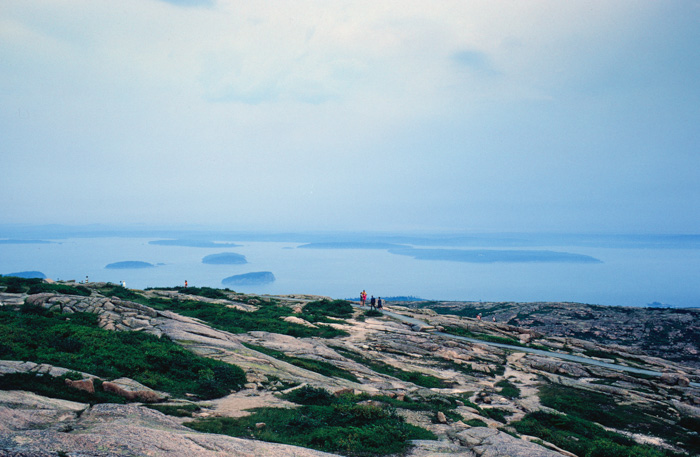 Our next destination was Acadia National Park in Maine.
The thing that struck me most about the park was the pink granite stone. The next most amazing thing was the difference made by the weather conditions.
---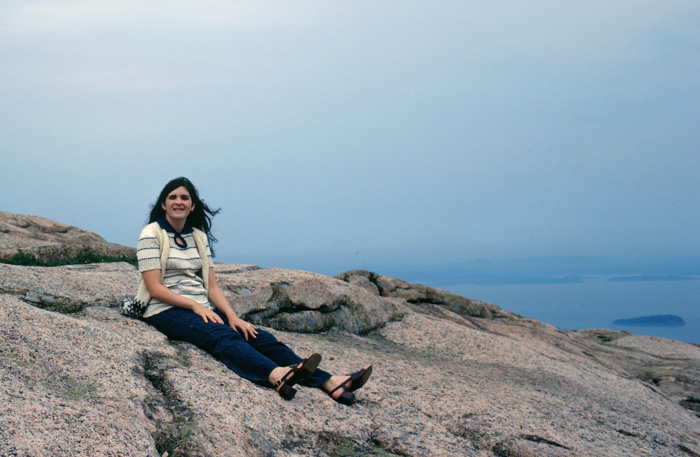 Anne enjoying the view.
In the years following this trip, Alan was studying for his master's degree. Every week when he was in class, Anne and I would get together for dinner and a "girls' night out." Those were some happy times!
Eventually Anne & Alan separated. Anne remarried and she is still living in Northern Virginia. We recently reconnected via Facebook
Fred married and moved to Raleigh, NC, many years ago. According to Google, he is now a Financial Advisor with Wells Fargo!
---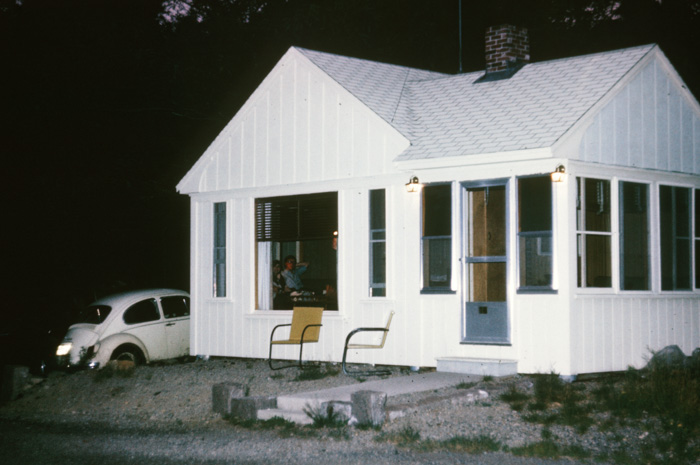 The little cabin we all shared in Maine.
A road trip involves cars, of course. Anne and Alan traveled in their Volvo P1800. In spite of the fact that Volvo had a great reliability rating, Alan used to joke that he had his paycheck direct-deposited to Volvo of Washington to pay for maintenance.
Fred also had a Volvo, a P1200, but we didn't deem it sufficiently robust for this trip.
So much for Volvo reliability!
The VW beetle was my car. It made it to Maine and back without a hitch! I have to laugh when people talk about "the good old days" of cars. They are SO much more reliable and sturdy now. Of course, reliable and sturdy isn't what a lot of people look for in cars.
---
Both then and now I love taking pictures of critters and plants.
I didn't know then about polarizing filters that would allow a better picture through water.
---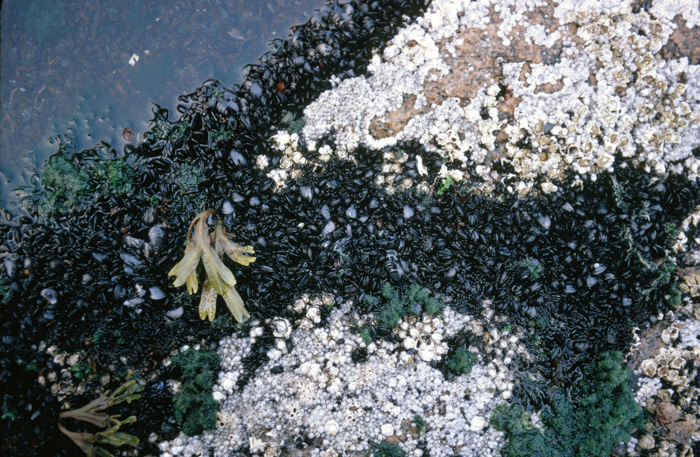 Mussels were once a defining feature of Maine's intertidal zone, but in recent years they have been disappearing. No one knows why, although theories abound.
---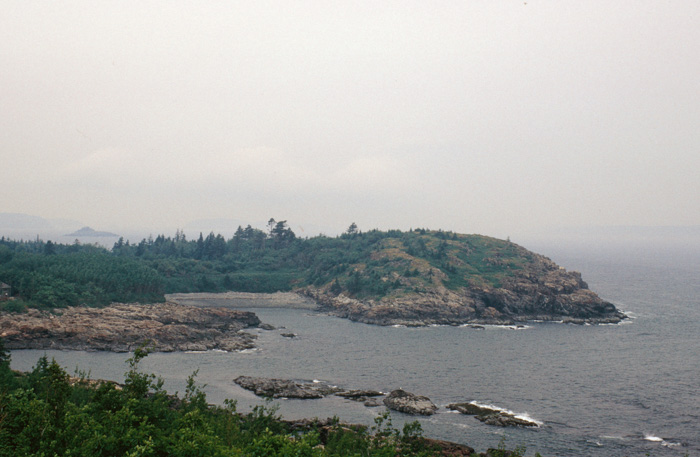 Here's what I mean about changing weather conditions.
Our first day there was cloudy, misty and a bit rainy.
We did most of our touring in this kind of weather.
---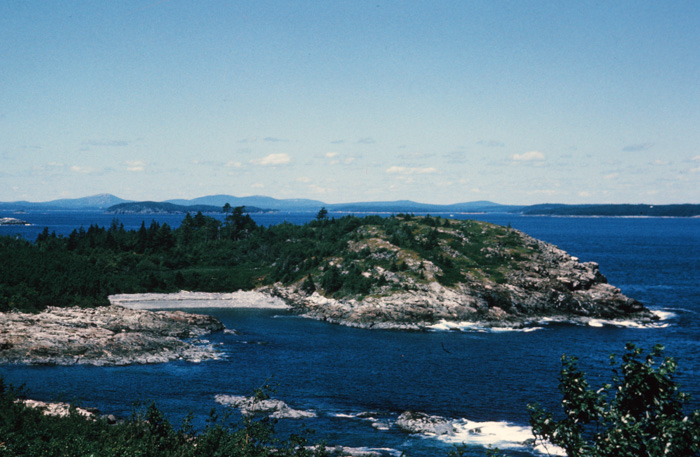 The next day was brilliant sunshine. This is the same view, but what a difference!
I still struggle to believe the change -- and I was there!
After our time in Maine we high-tailed it back home.
I love road trips and wish we took more of them nowadays. My dream is to pack up and head out to the northern Mid-West: Michigan, Wisconsin, Iowa and the Dakotas. Someday (if I can convince Jim)....
---
Click your "back" button to return to the previous page or click for our picture album.