After our week in Hong Kong we traveled to Tokyo. My parents spent the week at the Bar Association meeting and I spent the week with my friend Peco and her family. She took me to see a variety of sights in Tokyo and the surrounding countryside. I'm sorry that I didn't know enough about Japanese culture, art and architecture at the time to appreciate what I saw or to ask about visiting some more important cultural sights. But I was inspired by what I did see, and of course, by Peco's companionship as well. I can truthfully say that this portion of the trip changed my outlook on the world.
---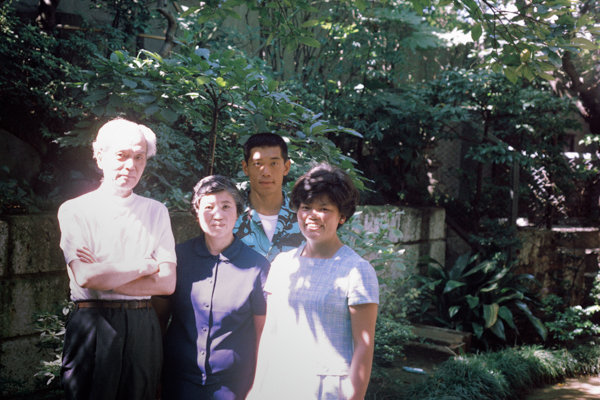 Even as ignorant as I was, it didn't take long to realize that a house with a walled garden in the Roppongi area was not a typical Japanese household.
I knew that Peco's father, Takeo Uchida, was an artist, and that her mom, whose name I cannot recall, ran a cookie factory. Peco's brother was still a student at this time. I don't remember his name either.
The "private" part of the house featured traditional Japanese decor with tatami floors and sliding screens. We slept on traditional futons, which were folded and put away during the day. Futons have made it into western consciousness since this time, but usually as daybeds or sleep sofas. These were different. Nothing similar could be purchased in the US, so when I got my first apartment all to myself, I made one from foam rubber and sheets. It wasn't as elegant as the Japanese originals, but it was serviceable for an efficiency apartment.
The Uchidas' public rooms were Western style with sofas, chairs, and a standard dining room table.
Peco's mom prepared Japanese food, but emphasized meals known to be compatible with western tastes, such as sukiyaki. I was glad that I had already mastered the use of chopsticks, so I didn't have to stoop to using a fork, although that was an option. Peco and I went out for one meal of sushi and sashimi. I had never had it before and was somewhat hesitant, which got me a lot of teasing. Since then I've developed a taste for sushi and I'm sure that I missed out on some really good eats.
---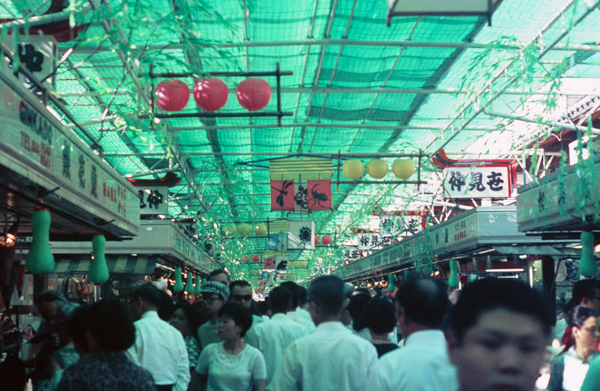 One of the places we visited was the Buddhist Senso-ji temple. This open-air shopping mall leads up to it. The temple was founded in the 7th century although the current building dates from after WWII.
---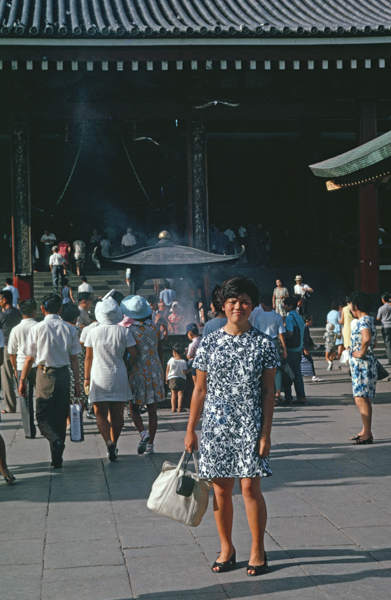 Near the Buddhist temple is the Shinto Asakusa Shrine. This structure escaped the damage of the WWII bombing raids and dates back to the 17th century.
The smoke behind Peco is from a giant incense burner. There was also a tree on the grounds with many cloth rags tied to it. She said there were prayers written on the rags.
---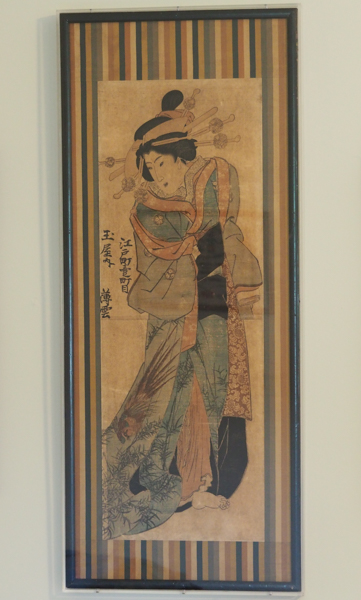 I had told Peco that I wanted to buy some Japanese art as a souvenir. She took me shopping at a place she knew and I bought this 19th century two-panel woodblock print of a geisha. I have since had it professionally reframed with a new mat. I didn't think to ask the framer, who is Japanese himself, to translate the inscription. I know it is a 19th century advertising "poster," but I don't know if it is advertising the dress or the woman!
---
Peco also convinced me to buy a pair of painted shells that were once used in a courtly game. She told me that they were very old (18th century?). Looking online I find the game described as kai-awase. Most of the descriptions reference large shells, but the ones that I have are less than one inch in width. The full game set is 360 pairs and I have only one pair, but they do fit together as described.
---
Peco's home had a Japanese-style private bath. It included a large tub, which was more like a small modern hot tub than anything else. As I recall it was wooden and the water was quite hot. First you take a shower to get clean, then you soak. I was amazed that the water in the tub is not changed between users. It is filled only once for the entire family's daily ablutions. Nevertheless, it was quite relaxing.
I remembered how distraught Peco had been in Germany to learn that we were only allowed one bath EACH WEEK!
Bathing is important in Japan, both as a matter of personal cleanliness and as a social experience at a public bathhouse. I had read about unisex bathhouses, which was not something that I wished to try. When I asked Peco if there really were such things, she said that there were, but that only men visited them! So much for that. We did visit a bathhouse on "ladies day," and it was -- well -- exotic.
---
In recent years vampires have been fashionable in the US, but in 1970 not so much. There was, however, a very hip nightclub, Dracula Supper Club, in Tokyo with a vampire theme. It was a lot of fun and very creepy. This was the only place we visited that people spoke English. They immediately pegged me for an American, of course, in spite of our German conversation. There are still (2022) some vampire-themed eateries in Tokyo, but none that seem to match exactly. Perhaps if I could read the Japanese on the ticket stub, I'd be able to tell.
I remember that it was below-ground. Seems appropriate.
---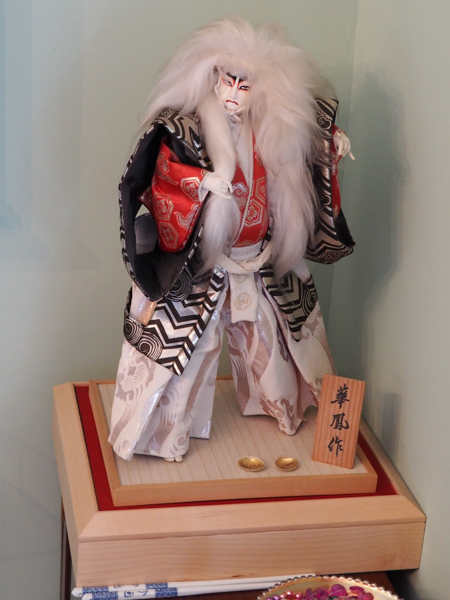 Kabuki is a traditional and stylized art form that originated in the 17th century. I thoroughly enjoyed the performance we attended at the National Theater of Japan. (The current buildings are new since we were there.) Since the plays are well known, the audience shouts out encouragement of their favorite actors and occasionally recites dialogue. The closest thing I've seen in the west were D'Oyly Carte productions of Gilbert & Sullivan operettas.
Even though I didn't understand a word and wasn't able to follow the plot, it was amazing. When I visited Japan a few years later on business, I bought this Kabuki doll in memory of the experience.
---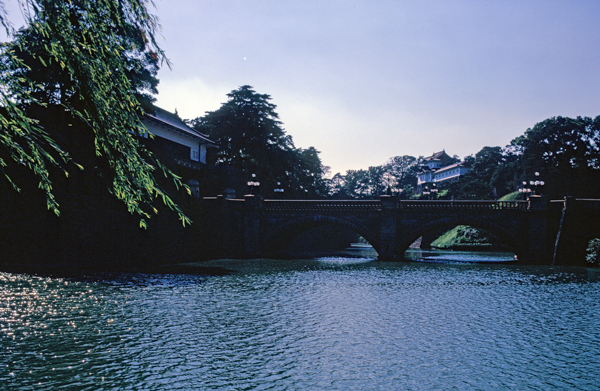 We visited the site of the Tokyo imperial palace, which is surrounded by a large moat. The structures date from after WWII, but the location has been used since at least the 15th century.
---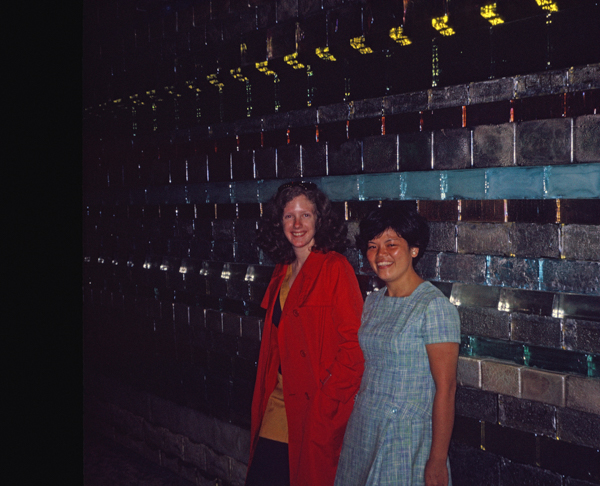 Peco and I visited my folks at the Imperial Hotel where they were staying. An earlier version of this hotel had been designed by Frank Lloyd Wright, but it had been replaced by a larger structure. I seem to remember that this wall of glass brick was left from the Wright building, although I can't verify that.
I do remember getting a wonderful tempura meal here. It has spoiled me forever after.
---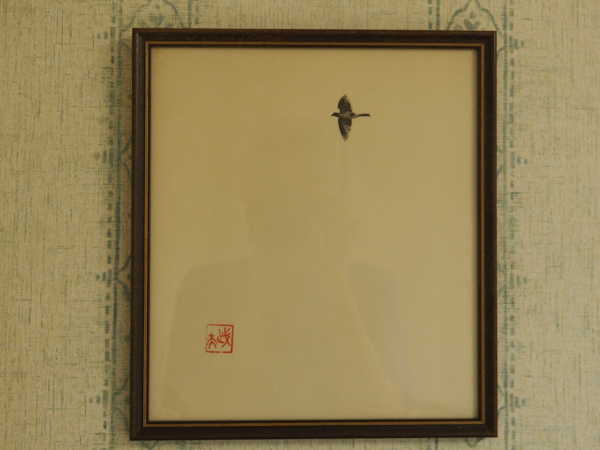 I knew that Mr. Uchida was an artist and I also knew that a "hostess gift" would be appropriate. I wanted to share something distinctly American so I took a book of sketches by Andrew Wyeth. I didn't realize that Wyeth would be new to Mr. Uchida and he was thrilled. The sketches were primarily of natural objects and had a very Japanese feel to them. After receiving the book, Mr. Uchida ran into his workshop and painted me a lovely small bird. I still have it, of course, along with many other Japanese artworks.
---
Some years later I had the opportunity to return to Japan. By that time Peco was married and had two little boys. We had stayed in touch so I arranged to see her when I was in Tokyo. It was a bitter-sweet visit. I was happy to see her again and meet her husband's family, but dismayed to hear that her husband's parents, who were VERY traditional, would not allow her to see her own parents. An artist father and factory manager mother were too bohemian for them. I was shocked that someone as cosmopolitan as Peco would accept such conditions, but I knew that she had wanted very much to marry and she explained that her husband was otherwise very good to her.
We lost touch after Jim & I got married. She sent me a card for the wedding and that's the last I heard from her. I pray she is well and happy and that she remembers me as fondly as I remember her.
---
Click your "back" button to return.