In addition to formal day trips to tourist sites, occasionally a group of us would get together for hikes to nearby attractions.
---
Lecher Falls
---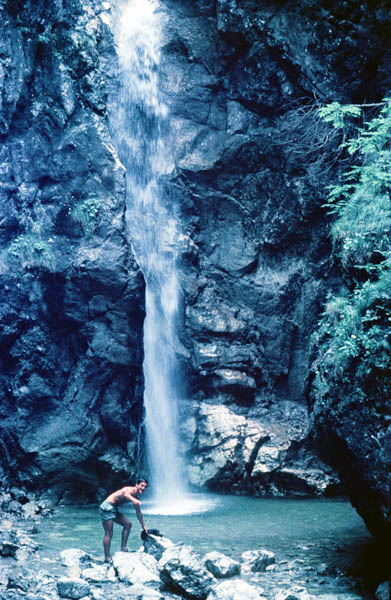 There were a number of scenic hikes near Kochel. One day I walked out with friends to the Lecherfälle.
---
Brenda, Dom & Bob enjoying a light picnic at the base of the falls.
It's nice to know that we girls didn't always dress up during that summer!
---
Kochel
---
A view of Kochel from another of my favorite hikes.
This summer may have been the last time I wasn't worried about walking alone. I hiked out in the countryside and village rain or shine.
---
Herzogstand
---
Another day we took a bus to Walchensee. This lake was not far from Kochelsee, but at a higher elevation. A power plant between the two lakes used the height differential to generate electricity.
A chair lift took us to the top of the mountain, Herzogstand, between the two lakes.
It was a single chair designed for hikers, not skiers, and we sat sideways. It has since been replaced by a cable car.
---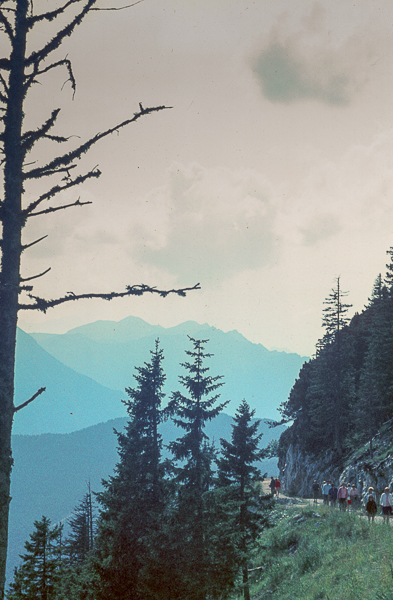 The plan was to go to the top of the mountain, lunch at the restaurant, and then take the chair lift and bus back home. Some of us, however, decided to walk back to Kochel.
I'm not sure what we were thinking.
---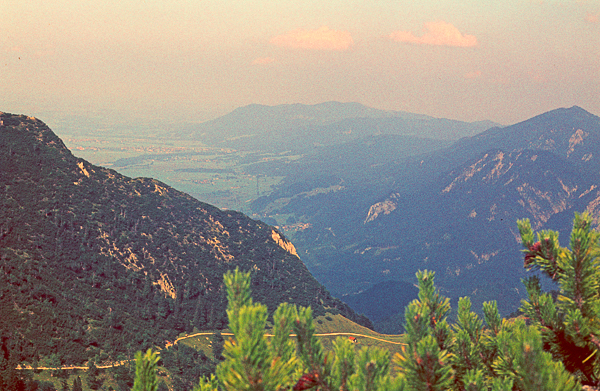 It was a long hike down off the mountain. I had not come prepared for a long walk -- in fact I was wearing thong sandals!
---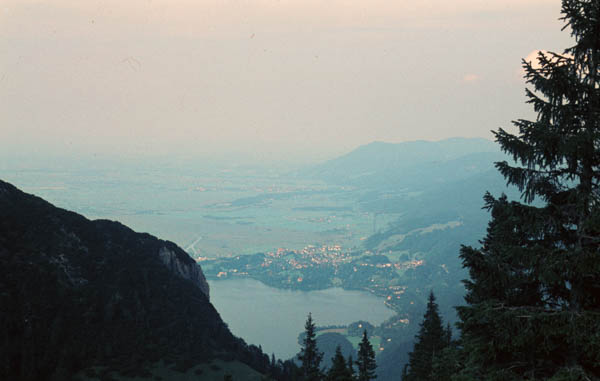 The afternoon crept along. We began to wonder if we would make it back in time for supper.
---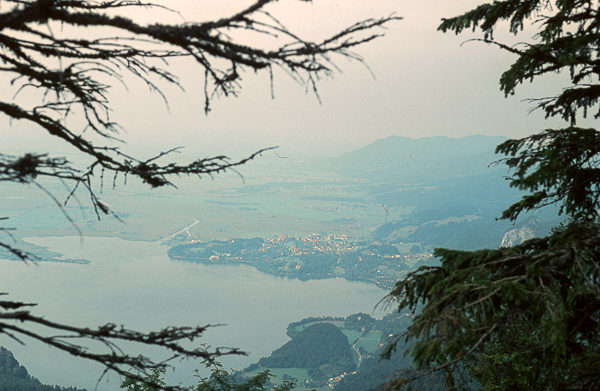 We didn't make it back in time for supper, as it happens. But at least we did get down before dark.
Ah youth!
---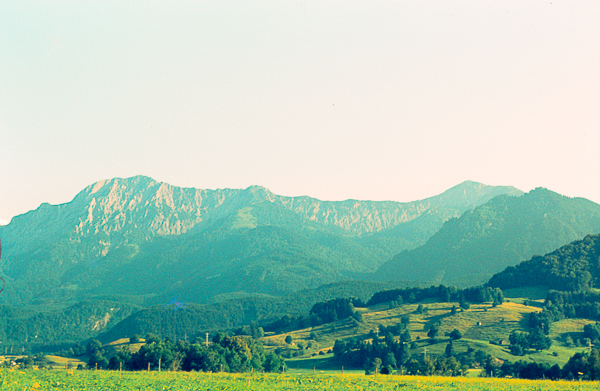 A view of Herzogstand from Kochel, taken on another day, reminds me of how long that walk was! Google Earth tells me that it is a bit over 10km -- not quite 7 miles. I've walked farther since in a half-day, but not in thong sandals!
---
Click your "back" button to return.