As I recall our MBC group first met at JFK airport for our overseas flight to Hamburg. The flight was a charter although we were not the only folks on it. Although I was less than the drinking age in the US, those rules didn't apply overseas, and I was delighted to sample all the free booze on offer on the plane.
Once we arrived, my first order of business was to buy a camera. I had never owned or used an SLR, but based on comments from friends I was determined to purchase a Pentax. For reasons that are lost in time I wanted an Asahi branded Pentax rather than the Honeywell branded versions available in the US. I suppose that is the reason that I waited until arriving in Europe.
Even more obscure was my decision to forego a built-in light meter, which was a relatively new feature at the time. Instead I bought a stand-alone light meter and regretted that decision for the rest of the time I used that camera. The light meter was erratic and cumbersome and much of the time I simply relied on a guess as to the proper exposure. It is a wonder that any pictures came out at all!
A very odd purchase in Hamburg was an alto recorder (blockflöte). I no longer recall why I wanted one, but I went out of my way to find it. I never really learned to play the thing even though I still have it and the instruction book (in German) that I purchased with it.
Youth!
---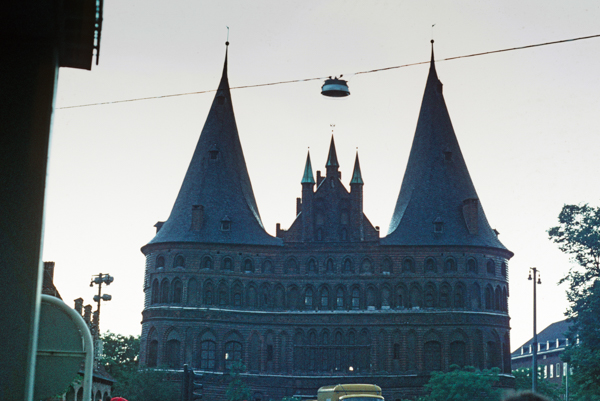 Our first tour was to the Hanseatic League city of Lübeck on the Baltic.
The Holstein Tor or Holstein Gate was built in the 15th century and is the only remnant of the original fortified gates. I don't recall if we visited the museum or not. Nowadays you couldn't keep me out!
It's not the camera -- the towers are not straight.
---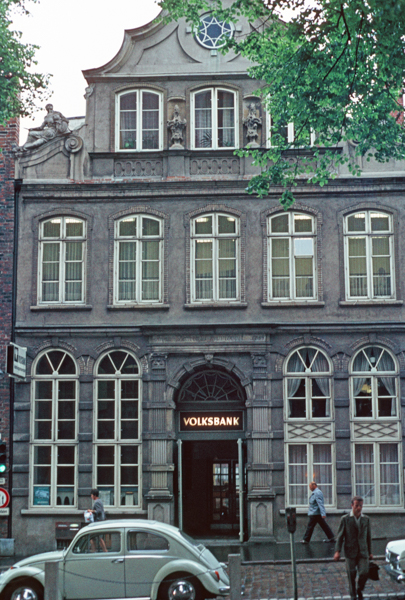 The Buddenbrooks House, the family home of Thomas Mann and the scene of the acclaimed novel is now a museum, but was a bank at the time of our visit. Only the facade and the cellars survived WWII Allied bombing.
Thomas Mann moved with his family to Munich when his father died and left Germany altogether when Hitler came to power. He lived in Switzerland for a while, but eventually became a US citizen.
The only one of Thomas Mann's works that I managed to finish was Tonio Kröger. While I was in Germany I figured out that the best reading to learn a language is not literature, it is comic books! Second best: romance novels. Limited vocabulary, predictable plot.
---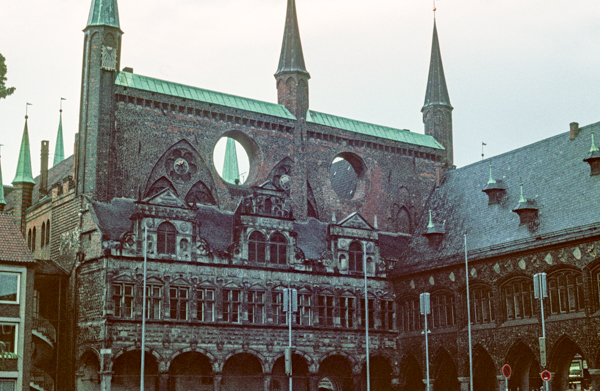 My new camera lacked a wide-angle lens, which limited my ability to get urban sights. This is the Lübeck Rathaus or city hall. To see a complete picture, with a fish-eye lens, check the link. Unfortunately we did not go inside.
---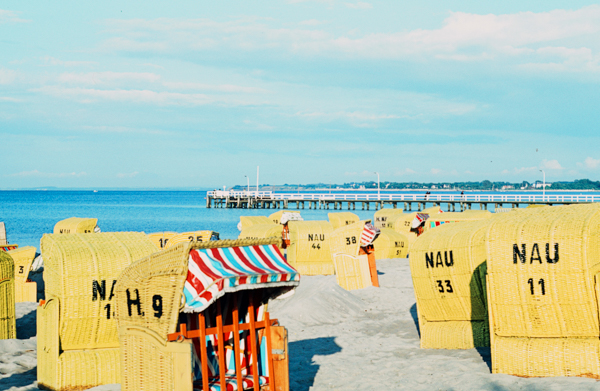 Our next stop was Timmendorfer Strand (Beach) on the Baltic Sea (Ostsee). The little cabanas are still available for rent and would be quite welcome on chilly days.
The summer of 1968 was notorious for its chilly and rainy weather. It was a disaster for wine production. I don't recall seeing much sun after the first couple of weeks.
---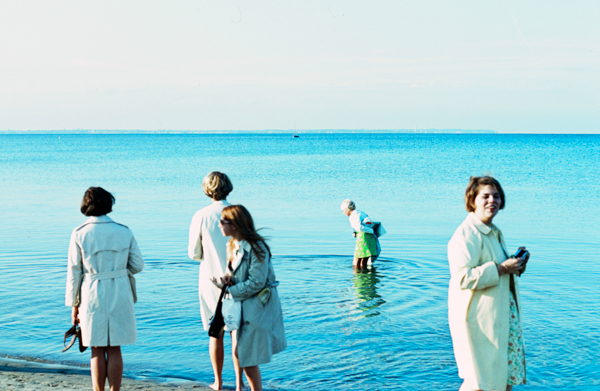 Most of us took the opportunity to go wading in the sea. Cold!
---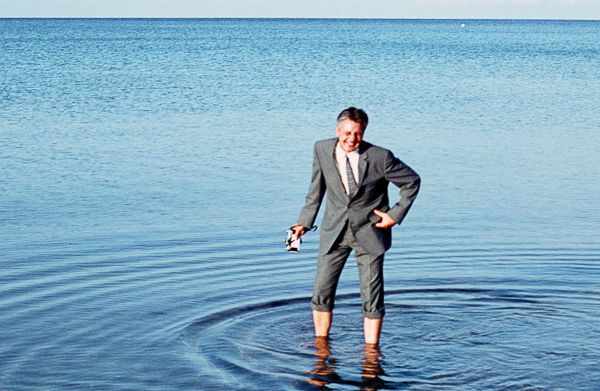 Even the dignified Herr Kehr got in on the action.
Looking back from a more informal time, it is striking how we "dressed up" for our travel -- including the ubiquitous London Fog raincoats.
---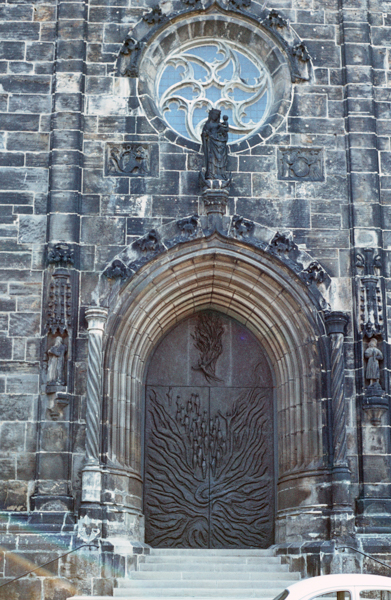 In Hildesheim we visited an amazing Romanesque church complex. Of all the places that I saw in Germany, this is the one I have dreamed of revisiting. There is still time.
St. Mary's cathedral is known for bronze doors dating back to the early 11th century.
These aren't those doors.
My slide has the note "Michaelkirche, Hildesheim," but this isn't it either.
I eventually found them (thanks, Google). They belong to St. Andreas Kirche and depict the Exodus crossing of the Red Sea.
---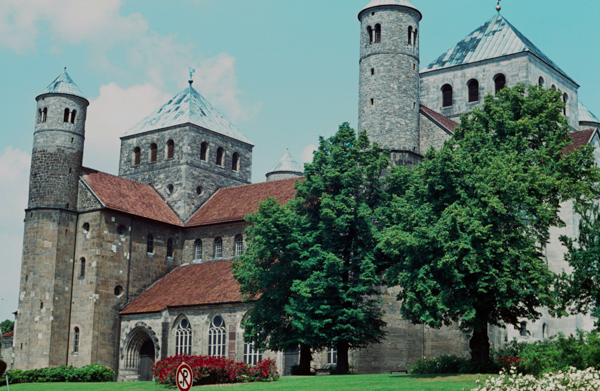 St. Michael's church dates to 1020. The slide is incorrectly labeled "Peterskirche." I had my churches mixed up as well as my doors.
Romanesque churches are more massive than Gothic ones and feature round arches.
The church was damaged during WWII, but has been restored.
St. Mary's cathedral, which I don't recall visiting, was founded in the 9th century although the current building dates from the 12th.
---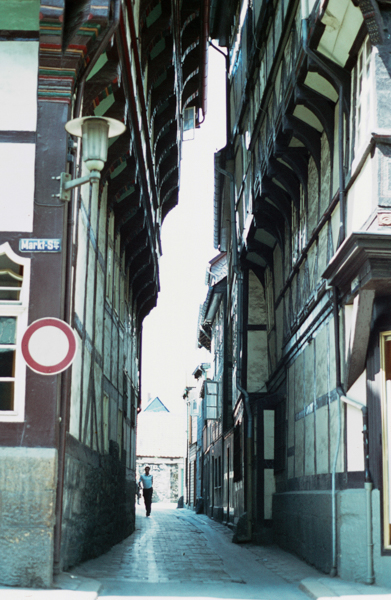 Our next stop was Goslar. I have several pictures, but don't remember much about it. It is now a UNESCO World Heritage site for its nearby mines and water management system, which makes me want to revisit it too. None of that would have interested me at the time, but it would now!
The medieval construction technique of making upper stories larger than the ground floor allows more room in the street while providing additional living space in the houses.
---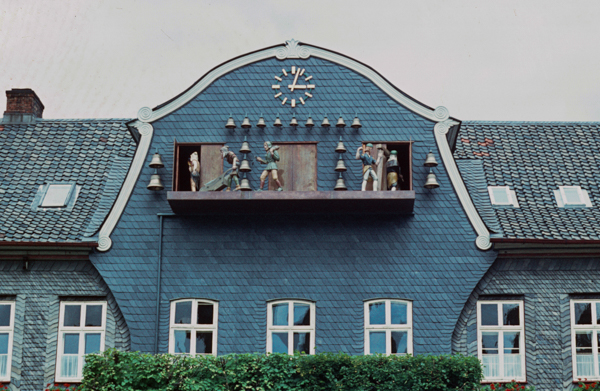 This glockenspiel put on quite a performance. It started with the king and his horse & groom. Then laborers shuttled material from one side to the other, and knights emerged and clashed. The performance continued for several minutes.
---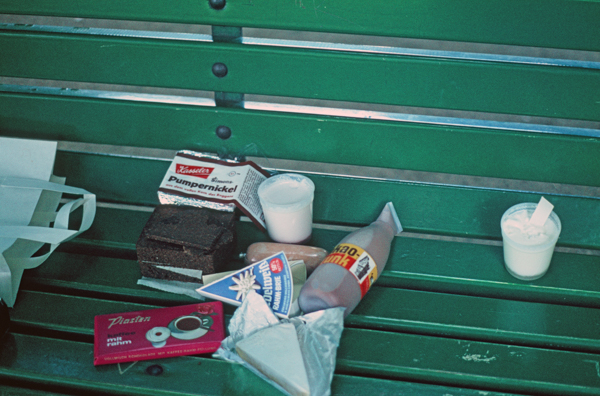 We weren't starving students, but we didn't dine in high-end restaurants or stay in 4-star hotels. We spent nights at family-run guest houses. I learned to love the German breakfast of brötchen and cold cuts.
This was a typical lunch: brown bread, cheese & yogurt with something to drink and a bit of chocolate.
I assume we ate suppers, but I don't remember any.
---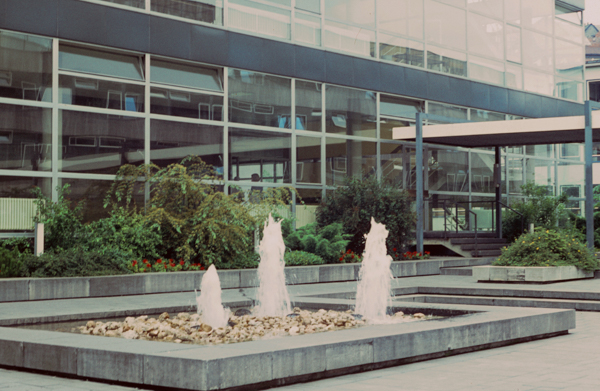 The University of Marburg was founded in the 16th century as a Protestant institution.
This was the school I would have attended for a junior year abroad, if I hadn't gone to California instead.
---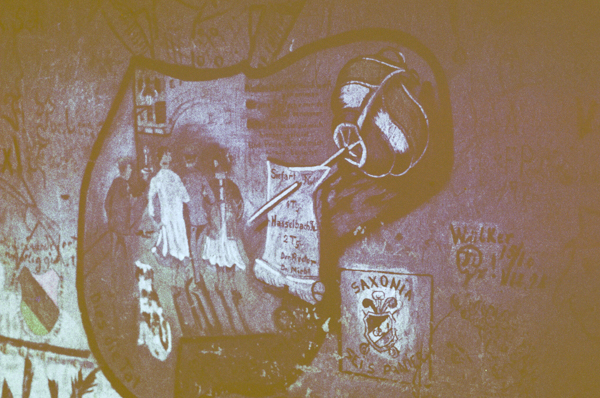 German universities, back in the day, had detention cells called karzer. Students spent time there for various infractions, and it became rather dashing to do so. The cells were decorated with graffiti.
---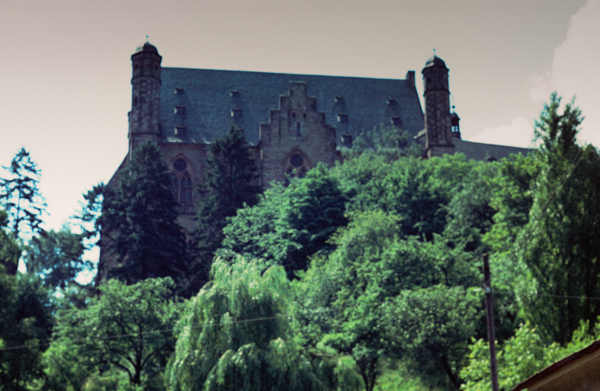 After the War of Thuringian Succession, the Landgraves of Hesse established their dynasty in Marburg in the 13th century. The existing fortress was enlarged as a residence and this was their seat until the 17th century.
(The seat of Thuringia is Eisenach, the home of one of my putative ancestors in the 18th century. Didn't know this at the time.)
---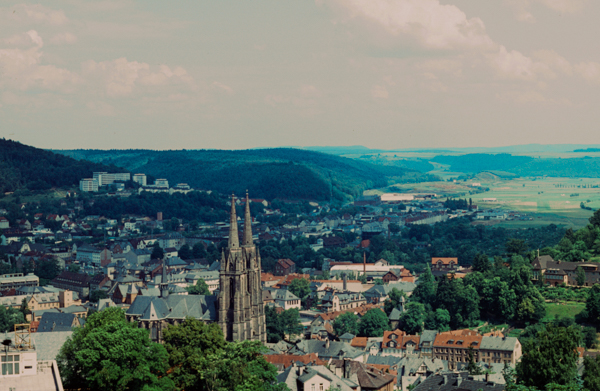 Marburg and environs from the castle heights.
The spires belong to St. Elizabeth's church. She married Louis IV , Landgrave of Thuringia, at 14, and they had three children. He died when she was 20. After his death she moved to Marburg and devoted her life to the poor. She died at 24 and was canonized four years later.
---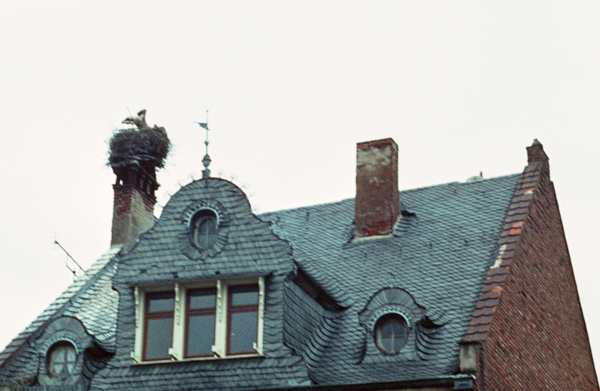 From Marburg we traveled to Kirchhain. A notable sight there was this crane's nest on a chimney.
It looks like the homeowner has constructed a platform to allow the chimney to be used in winter without demolishing the nest. It's supposed to be good luck to have a crane's nest.
---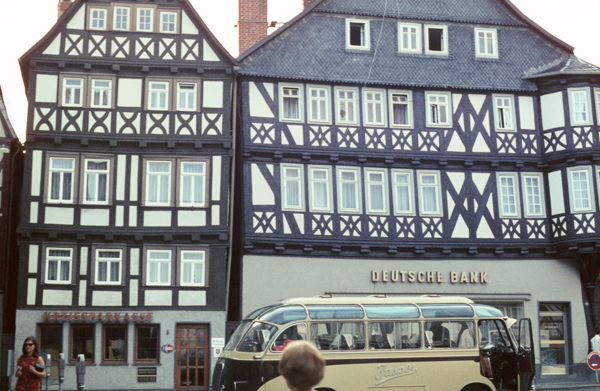 Half-timbered styling is typical of the area, but I kept this picture to show our little bus. We spent two weeks traveling the highways and byways in this little gem. Our driver was expert at fitting it into the tiniest alleys.
---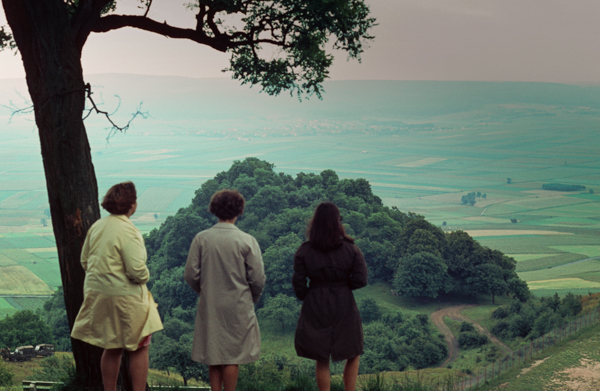 The nearby Amöneburg rises dramatically from the plain.
The only one of these ladies I can name today is Suellen Harris, on the left, who was my roommate for these two weeks. We had a great time together, but lost touch after we graduated.
---
Click your "back" button to return.