We anticipated a relaxing day cruising on Lake Huron with an afternoon lecture, games, a fancy tea, and tours of the bridge.
We learned a bit of trivia: Lakes Huron and Michigan are hydrologically one lake.
The day was relaxing until we heard that one of our engines had failed. We had taken the bridge tour in the morning and the young third officer said that we were cruising slowly at seven knots because we had plenty of time to reach our next destination. Later in the day several people noticed that we seemed to be cruising even slower. When the "Port Talk" for Manitoulin Island was canceled and replaced with a presentation by the captain, we knew there was trouble.
---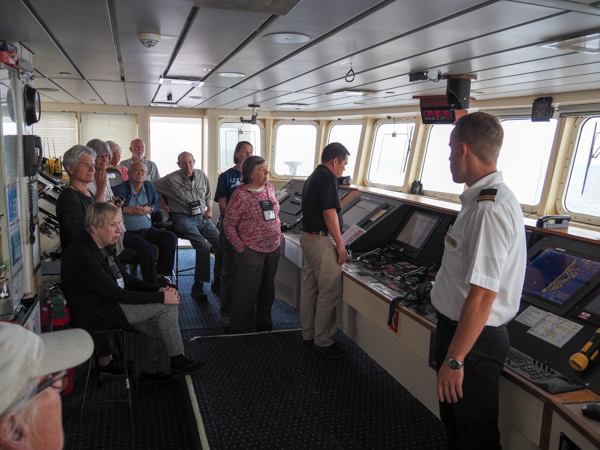 The bridge tours were limited in size and we were admonished not to touch any buttons!
During our tour the phone rang. The young officer responded with some "yes, sirs," "no, sirs," and then mentioned that he would have to call back as he had a tour group in the bridge . We later wondered if that was the first sign of trouble with the engines.
---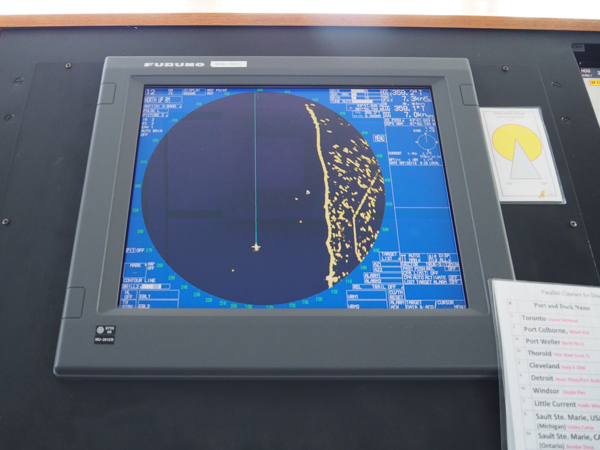 The radar display shows our ship, our course and the nearby lake shore.
---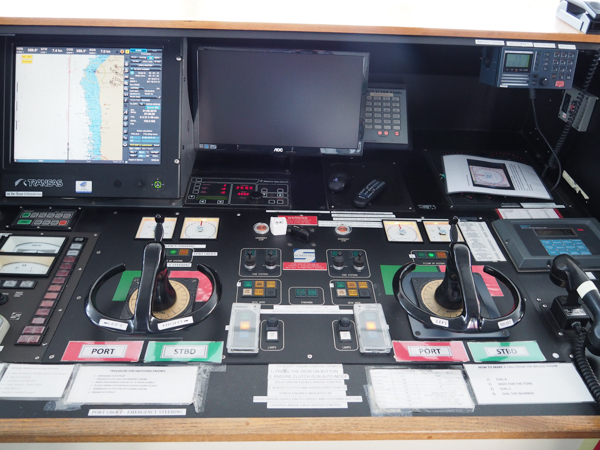 Forget the large pilot's wheel. The two engines were controlled by these handles.
I noted that the labels said "PORT" on a red background and "STBD" on a green background -- and also "<- LEFT" and "RIGHT ->". They were taking no chances of confusion.
---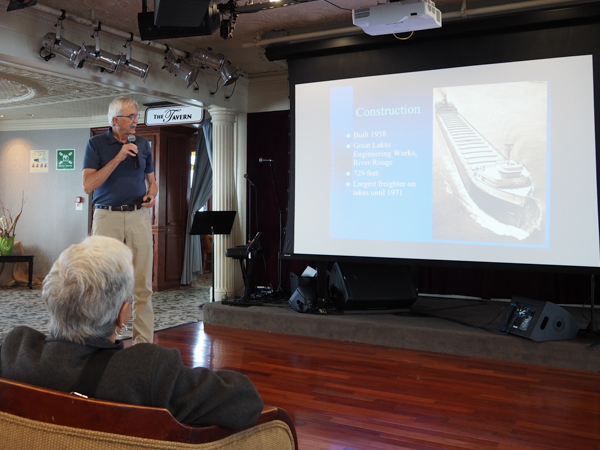 Today's lectures were given by on-board specialist Fred Stonehouse -- a historian who specializes in the Great Lakes. He is a knowledgeable and engaging speaker who added immensely to our understanding and enjoyment of the lakes and the people who live beside and on them.
The morning lecture: Great Lakes -- the geology, history, biology, economy, and culture. The info at the link echoes what he presented.
The afternoon lecture: The Wreck of the Edmund Fitzgerald. Fred has written a book on this incident. There are numerous theories about what happened to the ship, but no conclusive decision.
---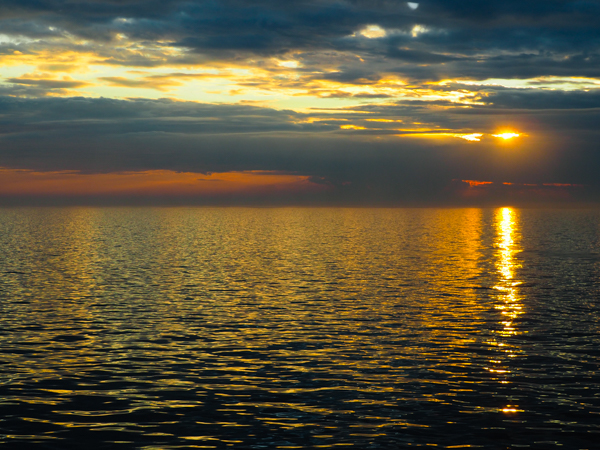 We were saddened by the captain's announcement that it would not be possible to make our anticipated landing at Manitoulin Island the next day, but the gorgeous sunset lightened our mood.
---
Click your "back" button to return to the previous page or click for our picture album.