After cruising the Detroit River from Lake Erie to Lake Huron, we docked at Detroit, MI, then boarded a motor coach for the Henry Ford Museum in Dearborn, just outside Detroit. The vast museum documents not only the achievements of Henry Ford himself but "the genius of the American people."
The Wikipedia article about the Detroit River at the link above, mentions that some people call it a strait. We also heard this designation from someone on our cruise. I've tried to research the distinctions, but have found no agreement. If the Detroit River connecting Lake St. Clair to Lake Erie is a strait, then its counterpart St. Clair River connecting Lake Huron to Lake St. Clair is also a strait. In general a strait is usually navigable and connects two large bodies of water. That could characterize these two waterways as well as the Mackinac Strait connecting Lakes Huron and Michigan (more on that later), but not the Niagara River connecting Lakes Erie and Ontario or the St. Marys River connecting Lakes Superior and Huron. Like it matters one way or another!
---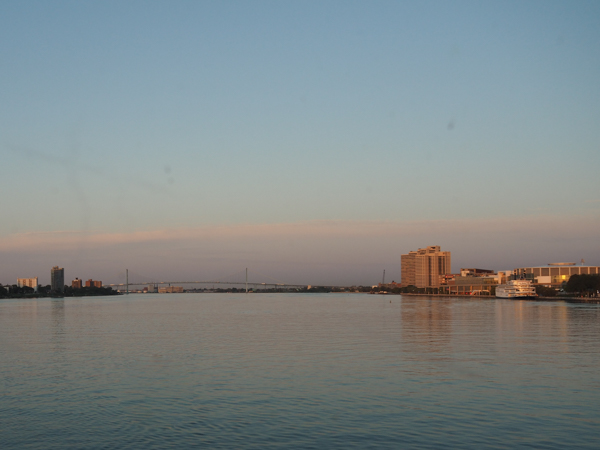 Detroit and Windsor, Ontario, face each other across the water. There is only one bridge, seen in the distance, the Ambassador Bridge. The bridge carries more than 25% of all trade between the US and Canada. It is privately owned! Everyone hates the owner and our guide said that talks were underway to build a competitor bridge.
---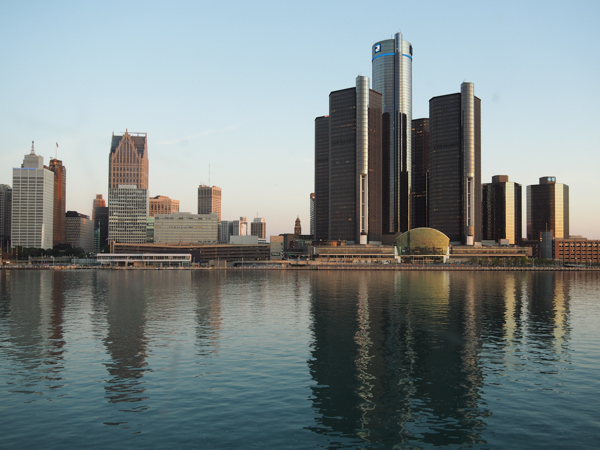 We arrived at Detroit in the early morning sunshine and docked at the base of the Renaissance Center where we met our buses. We didn't spend much time in Detroit proper, but our guide told us of the depths to which the city had sunk, reaching its nadir in 2012, and the amount to which it has rebounded in the years since.
Many corporations have discovered that Detroit real estate is a bargain compared to other cities of similar size and ease of access.
---
As in Cleveland we had a welcome committee.
---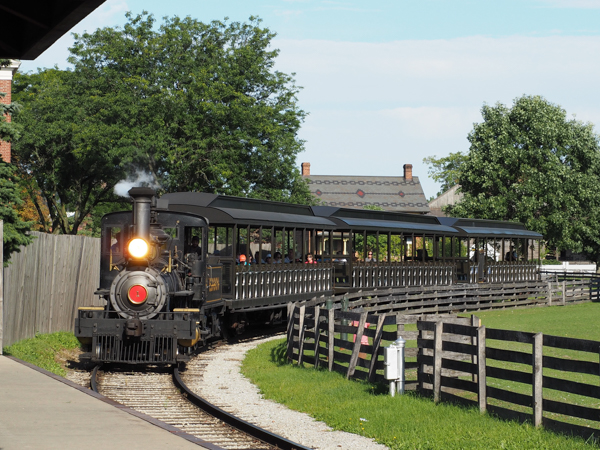 Greenfield Village is an outdoor living history museum at the Henry Ford complex. I elected to start with the steam train. While waiting for it to arrive I was able to review the site map and select the places to visit.
No surprise: they all had to do with technology.
---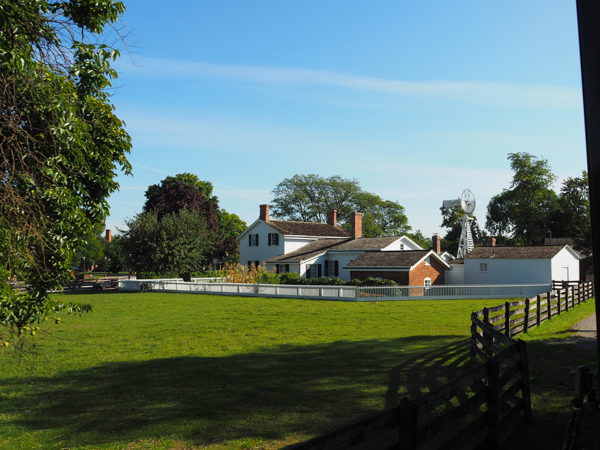 One of the first places we passed was Henry Ford's boyhood home, which he had relocated here. His parents were farmers and raised merino sheep. The same type of sheep were at home in this pasture.
---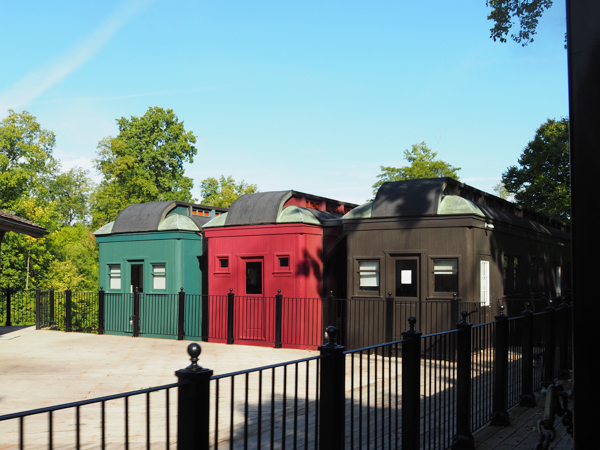 The original Henry Ford Academy was founded in 1929 and closed in 1969. It reopened as a charter school in 1997. Students, who attend free of charge, are chosen by lottery.
Seniors attend classes in these converted railcars.
---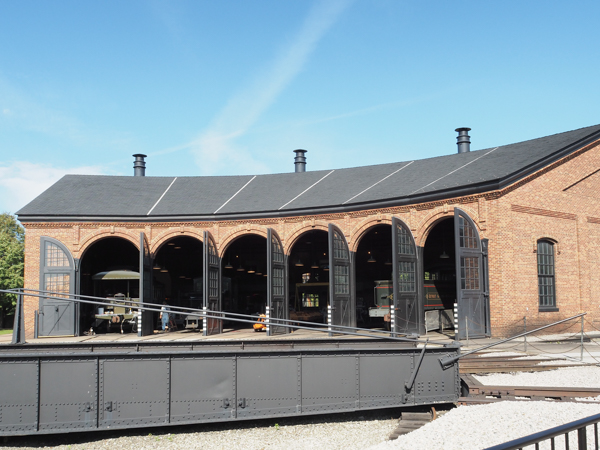 The small roundhouse contained locomotives and other vehicles. The turntable, with a locomotive on it, can be operated by a single worker.
---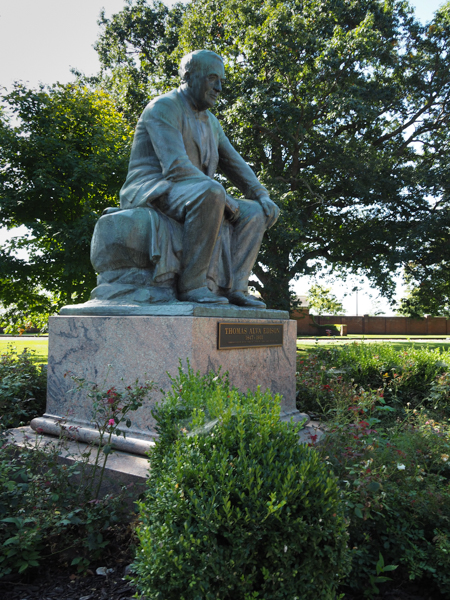 There were many exhibits related to Thomas Edison and his work.
Edison sat for this sculpture in the last years of his life.
Most of the Edison sites were reproductions.
---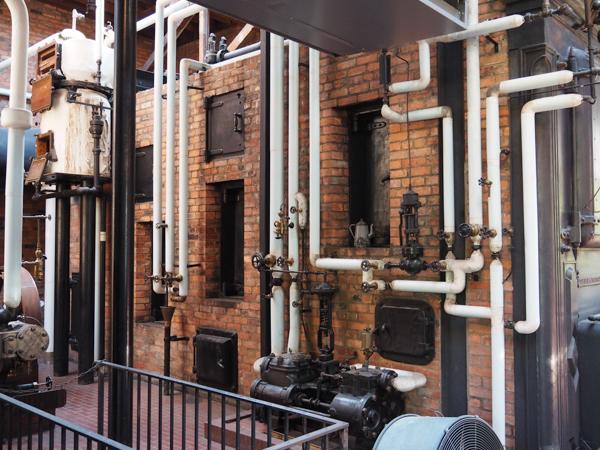 This was a scaled down reproduction of the Edison Illuminating Company's Station A.
The electricity was produced by steam. I thought the steam pipes snaking through made a fun design.
---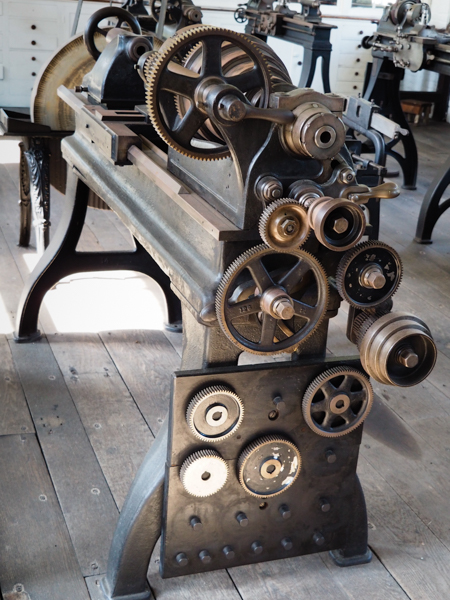 This lathe was in the reproduction of Edison's Menlo Park machine shop. All the different sized gears made many settings possible.
Edison needed all kinds of workshops to produce prototypes of his inventions.
---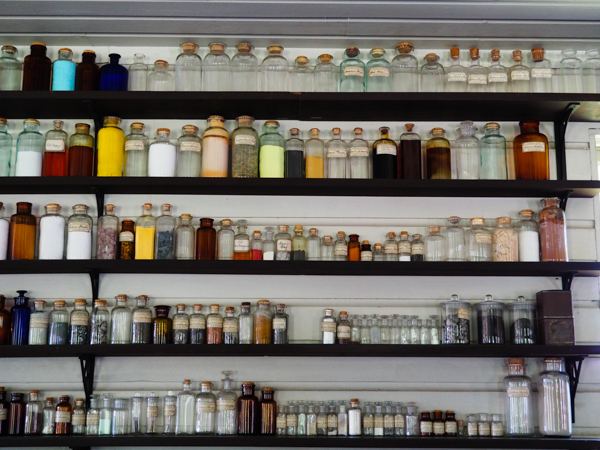 In addition to machine tools, Edison also had a laboratory with any amount of chemicals that might be needed.
---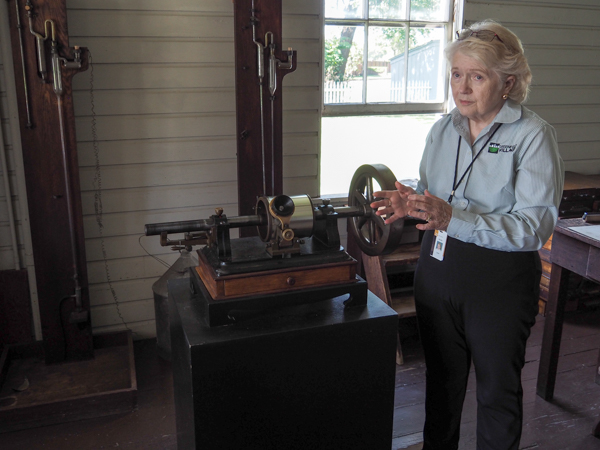 This docent demonstrated an original phonograph that recorded onto tinfoil wrapped around a cylinder. Edison's design, unlike the platters that won the day, recorded in vertical squiggles (is that a technical term? No!) rather than horizontal squiggles.
The record and playback were both done with a hand crank and it took a steady hand to produce recognizable speech. She said that the foil wore out after only a few playbacks.
---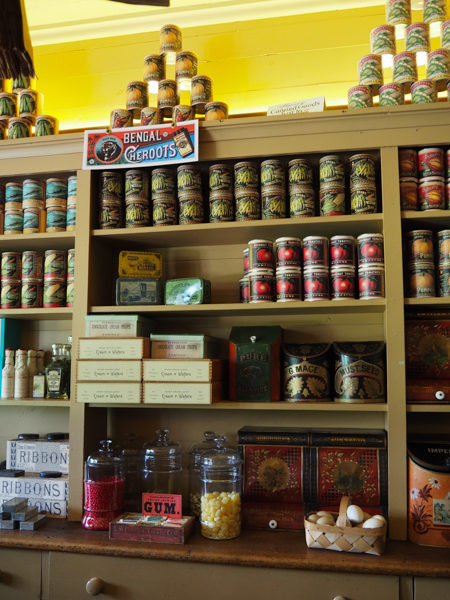 The General Store was set up like an early store. Self-service is a recent invention -- back in the day customers asked for goods that the manager reached out.
The store carried everything from food to clothes to tools.
---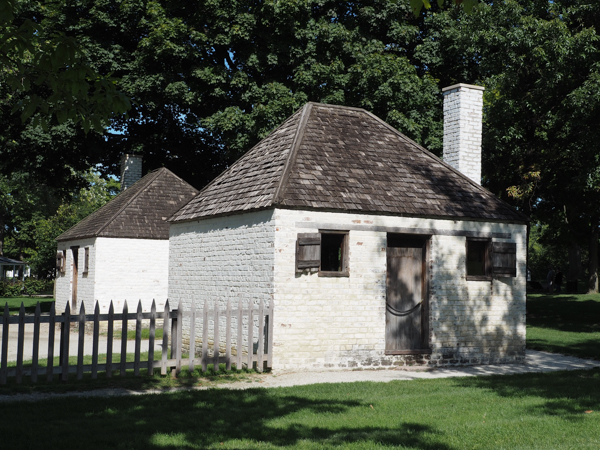 These two slave cabins had been reconstructed from originals at the Hermitage Plantation in Savannah, Georgia. That particular plantation had an industrial focus. Bricks were a primary product, for example, which is why even the slave cabins were made of brick. Rice was a primary crop and it required a skilled labor force. These slaves originated in a part of Africa where rice was a common crop.
Rice cropping was done on a task basis rather than the "gang" system used for cotton and sugar cane. When the day's task was complete, the workers could return to their homes and socialize. For this reason they were able to retain the traditions of their land of origin. After emancipation this evolved into the Gullah culture that still exists in some areas of the Low-country coast.
---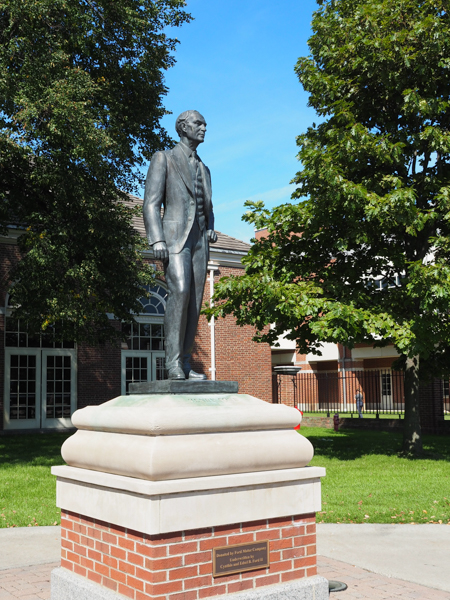 After seeing much of Greenfield Village, I had lunch at the museum. This statue of Henry Ford was on the way.
The museum offered a factory tour and I hoped to take that, but our Road Scholar leader insisted that was wasn't enough time. Phoo.
---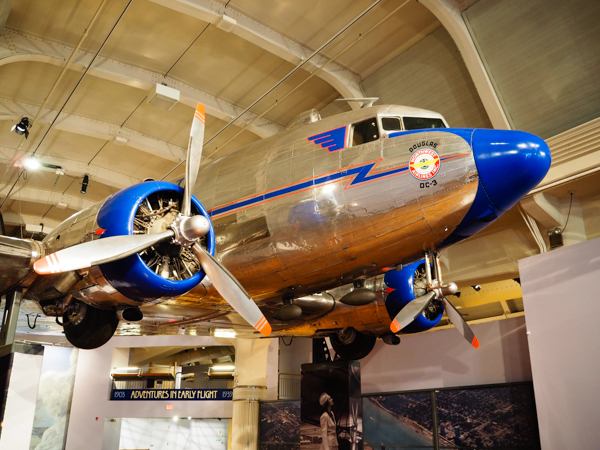 The DC-3 was arguably the most successful airplane of all time.
This particular plane flew more than 12 million miles. When it was donated to the museum in 1973 it had spent more hours in the air than any other airplane in history. Since that time, its record has been broken ... by another DC-3!
Other notable planes on display included the Ford Tri-motor used by Admiral Richard Byrd in the Antarctic and the Fokker Tri-motor that he used for the first flight to the North Pole -- only three days before Roald Amundsen crossed the Pole in the first ever transpolar flight. The story at the link is quite the cliff-hanger! But of course, all such claims can be contested.
---
Click your "back" button to return to the previous page or click for our picture album.