We arrived in Cleveland and boarded motorized trollies for a tour of downtown and other points of interest. During the Gilded Age and the early 20th century, Cleveland was the home of many philanthropic millionaires with strong civic ties and there are many buildings, institutions, and parks that reflect their commitment.
---
As we boarded our trolley, a welcome committee made us feel at home. Our guides had told us to expect the welcoming ladies, but the very friendly dog was a bonus.
---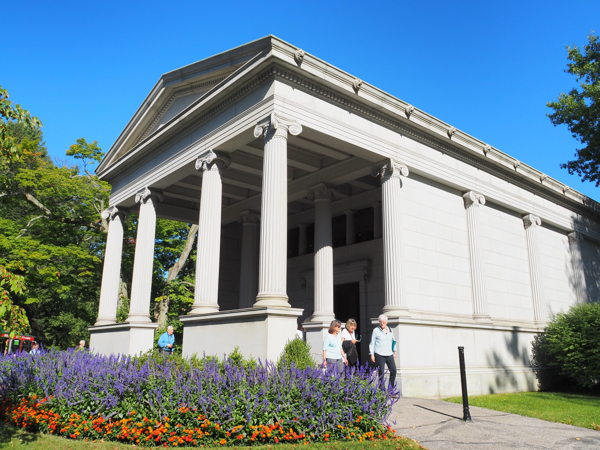 Tiffany Studios designed Wade Chapel at Lake View Cemetery. Jeptha Wade founded Western Union Telegraph and his grandson wanted a unique monument. The exterior is white granite that resembles marble.
Our guide told us that the Lake View Cemetery was founded in the mid-19th century by businessmen who felt the existing cemetery was overcrowded and no longer in the "best" part of town. They planned and created the new cemetery further away from downtown. Many of them even disinterred their relations and relocated them!
It reminded me of my mother's dismay when she and my father bought burial plots in a newly opened section of my hometown cemetery. She wasn't near any of her friends! My father, to no avail, pointed out that when she resided there she wouldn't care. She in turn pointed out that she cared NOW and that was more important. After my father's death, every time we visited his grave over the succeeding years, she was careful to point out the new neighbors.
---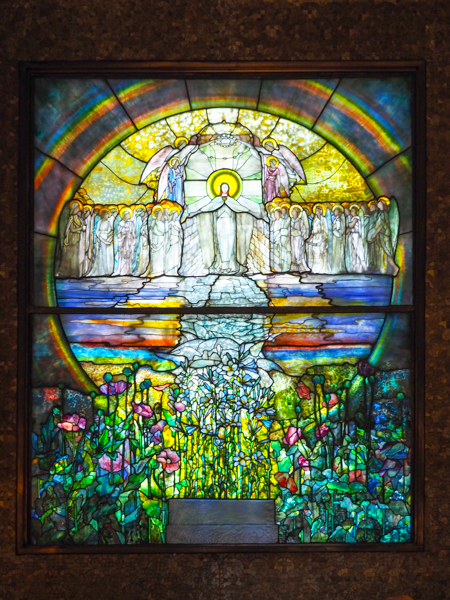 Jeptha Wade II saw this window at the Tiffany Studios when he was negotiating for the chapel. Tiffany had made the window for a Paris expedition and refused to allow it to be used until after the expedition. They struck a deal.
I no longer remember what the window cost, but it was astronomical.
The window is lighted only by exterior light and the colors glowed in the dim chapel. The docent showed us how the glass changed colors if a light is shined directly on it. The rainbow lost its colors, some of the pink flowers turned blue, others purple. Fascinating!
The walls were covered with allegorical glass mosaics representing the Journey of Life. On the left were figures and prophets from the Old Testament; on the right were saints and other figures from the New Testament.
---
After visiting the chapel, we had a few moments to prowl around. This monument was to a guitar player. His name, Sergey Gaidaenko, was written in the stone in front of the monument -- in both Latin and Cyrillic letters!
He gazes pensively into the distance.
---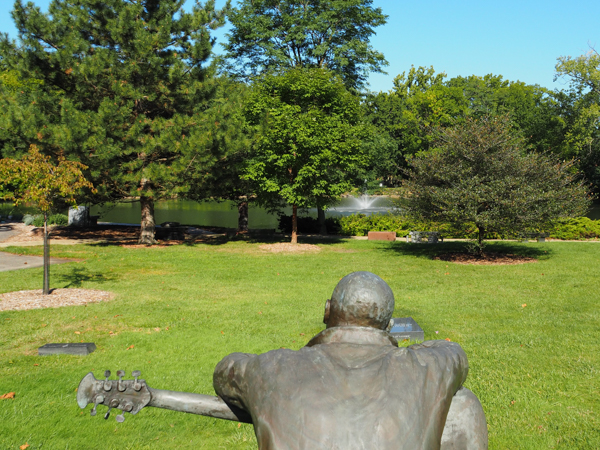 He is contemplating the lake and fountain. This is a prime location.
People had left coins beside his marker. Jim wondered if he had been a prominent busker in life!
---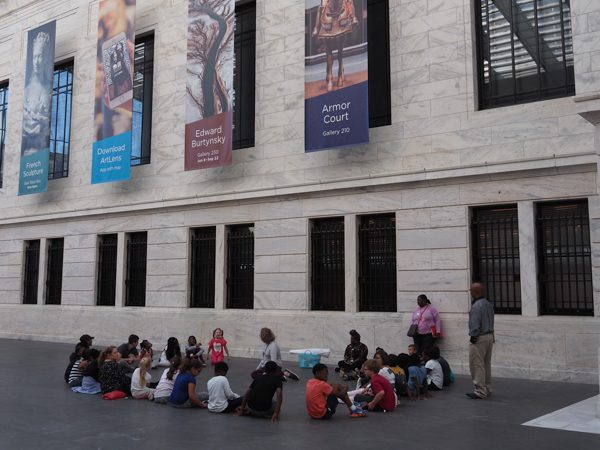 Our next stop was the Cleveland Museum of Art. It was a favorite stop of just about everyone.
This group of school children was getting a presentation from a very knowledgeable young man. I wanted to settle in with them, but felt that would be intrusive.
Instead Jim and I visited a special exhibit on "Medieval Monsters."
---
A long c. 1440 century wool & linen textile was part of the "monsters" exhibit. This segment shows a unicorn, a dragon, and several "wild men" depicted with long shaggy body hair.
The vivid colors are still glowing after so many years. It must have been stored away from light and insects.
---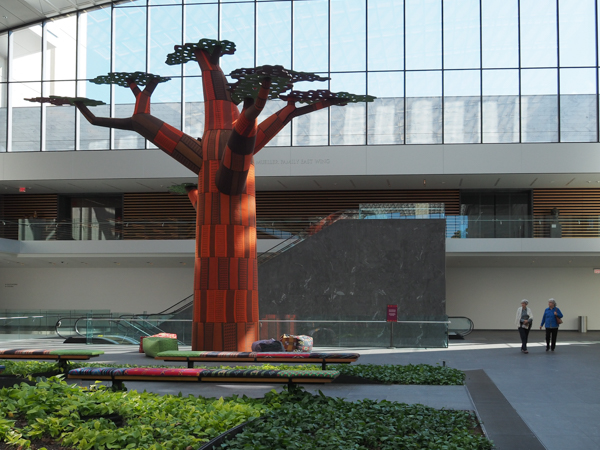 The Cleveland Museum, like the Royal Ontario Museum, had a massive modern addendum, but we felt it was a much happier marriage than the one in Toronto. It created a wonderful atrium without impinging on the original facade, a part of which can be seen above.
There was an exhibit in the atrium called "Ámà: The Gathering Place." The artist is Emeka Ogboh. It included a variety of places to sit, beautiful Nigerian music, and this massive tree. The seats and the tree itself are covered in akwétè cloth.
I could have stayed all day.
---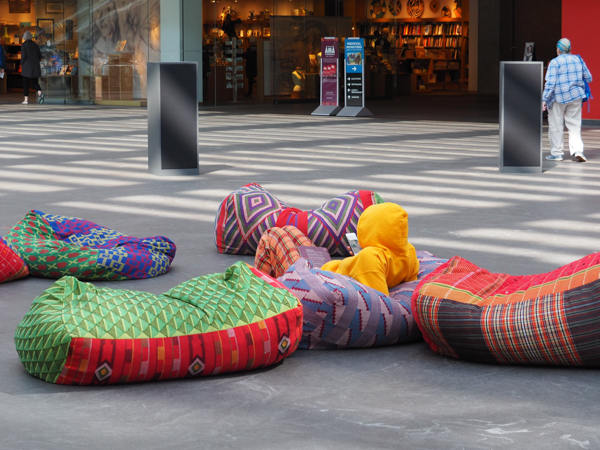 This young woman has entered into the spirit of the exhibit and become a part of it!
---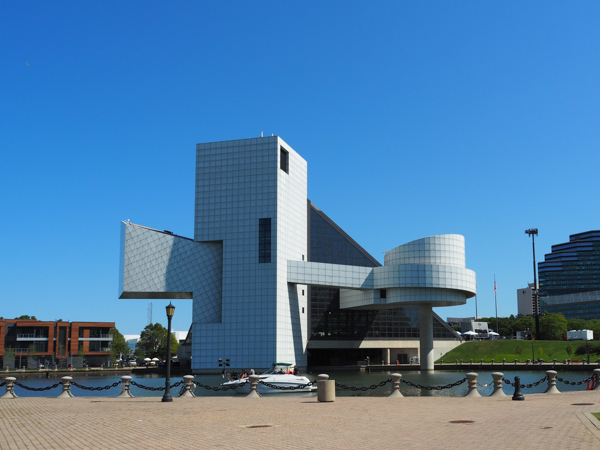 After lunch we wandered over to the Rock & Roll Hall of Fame, which was within walking distance of the waterfront.
The building was designed by I.M. Pei. He initially refused the commission because he didn't care for R&R. When he was dragged to a concert, however, he felt the energy of the music deserved a physical expression so he finally agreed.
The exhibits were nice, but the building was a highlight.
---
Johnny Cash's tour bus was one of the exhibits. He used this bus for over twenty years as he toured the country with his wife, June Carter Cash, and son John Carter Cash.
Cash sold the bus shortly after his wife died and died himself shortly thereafter.
Cleveland was an unexpected gem.
---
Click your "back" button to return to the previous page or click for our picture album.