In order to catch an early plane from Charlottesville to Toronto, we stayed overnight at our favorite crash pad, the Doubletree Hotel. We knew we were off to a raucous start when we discovered that the hotel was the HQ for the Florida State University football team! The game had been scheduled for the afternoon, but was changed to the evening to allow for broadcasting. The FSU team, staff, cheerleaders and fans were still at the hotel and our room wasn't ready. The staff soothed our wait with free appetizers and drinks, but we didn't get into our room until after supper. (UVA won the game.)
Our early morning flight reached Toronto around 9:30, which gave us time on our own in the city.
---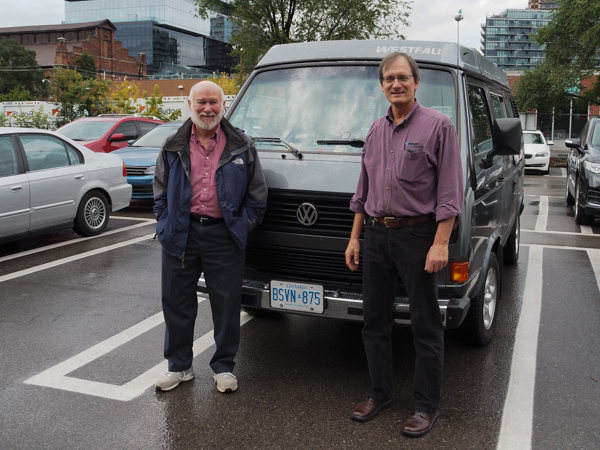 We arranged to spend our free time connecting with long-time friend Paul Honis who now lives in the Toronto area. Our plans to have lunch together were derailed by a malfunctioning alternator on his vintage VW Van, but we were able to coordinate some time and touring together.
It was great to see Paul again and learn about his civic and musical endeavors.
---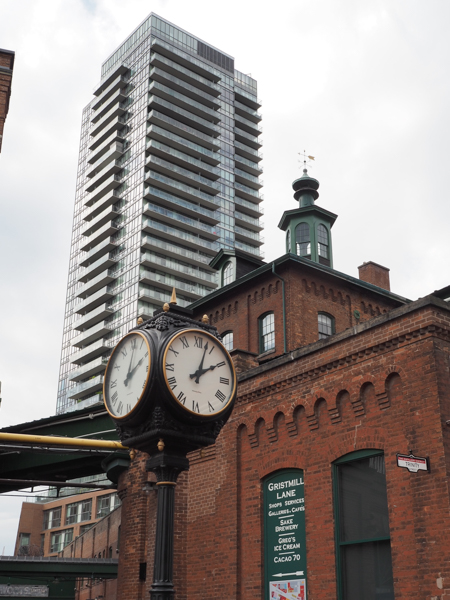 Paul took us to the Distillery District, the former location of a huge liquor distillery and now home to many shops and a small farmers' market on the weekends.
If you ever wondered where Al Capone and his rivals got all that bootleg whiskey, now you know: Toronto.
---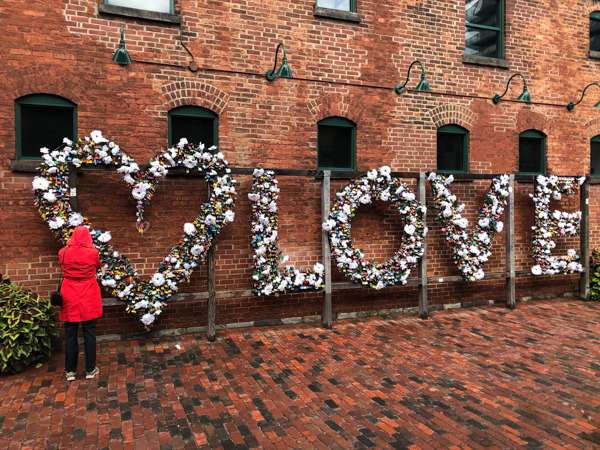 Toronto has developed a unique way of dealing with the Love Locks phenomenon. They take the locks and weld them into trash cans! There was also a massive decoration on one of the buildings. Much nicer than having them weighing down bridges throughout town.
Thanks to Paul for the picture.
---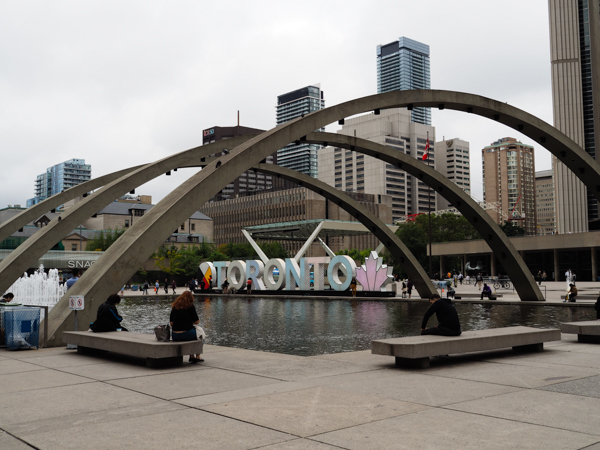 After our time with Paul, we returned to the hotel, the Sheraton Centre Toronto. It is across the street from the City Hall and adjacent plaza. The "Toronto" sign changes colors.
This really is the public square of the city.
Our first presenter described how multi-cultural Toronto is. Each ethnic group stages a celebration of their heritage and this plaza is a favored location for the various festivals.
Similar open spaces in a city may be sterile and boring. Not in Toronto!
---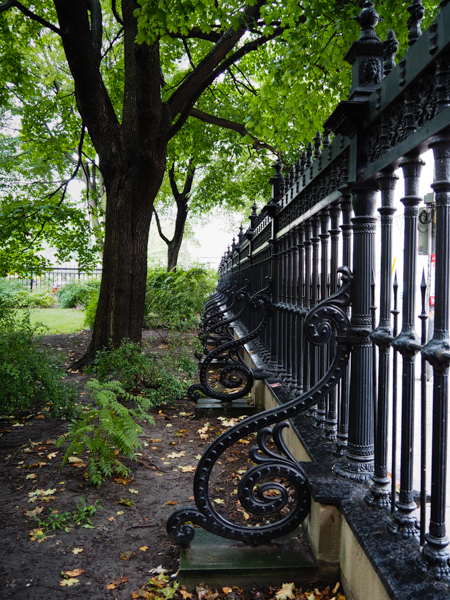 Adjacent to the plaza is Osgoode Hall. The building is surrounded by a beautiful wrought-iron fence with these elaborate brackets.
An ugly plywood barrier intended to protect the trees surrounded the edge of the park next to the building. It made an attractive picture of the building impossible. I hope it is temporary!
---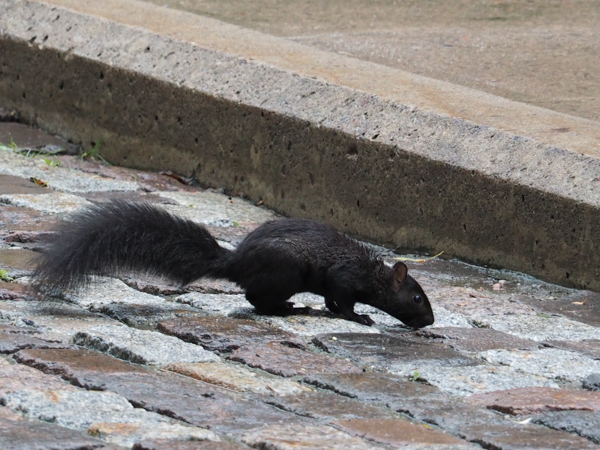 One of the black squirrels common to the city.
There was once a colony of these squirrels settled at the National Cathedral in Washington, DC, where I used to live.
Unlike most of our trips, there was very little in the way of living wildlife -- either mammals or birds. Almost all of what we saw was in museums and that was mostly bones!
---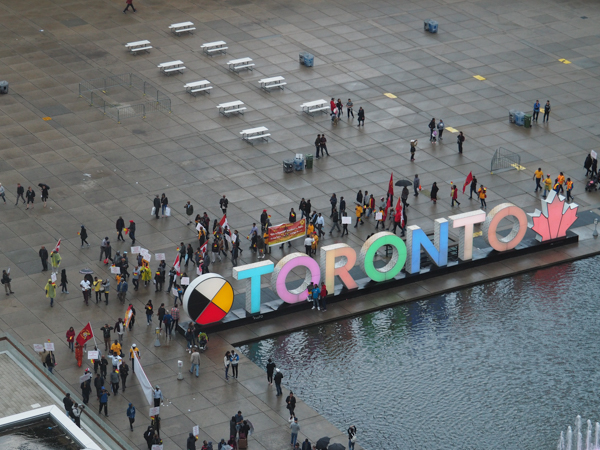 Later in the afternoon we heard chanting from the plaza. Resident Tamils were protesting on behalf of the Tamil minority in Sri Lanka.
There was also a group promoting Falun Gong.
---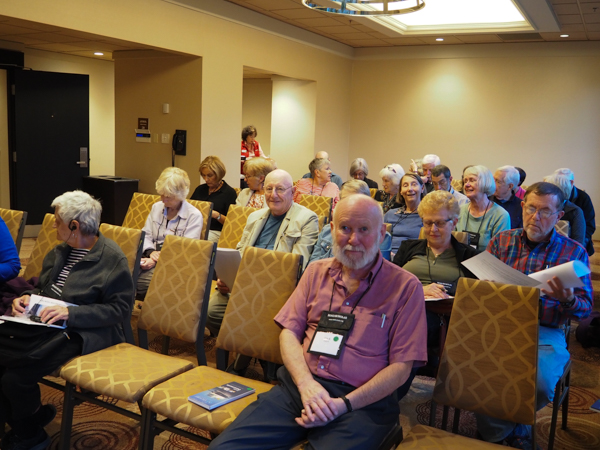 Although Road Scholar had chartered the entire ship, we were all assigned to one of four smaller color groups: Green, Yellow, Blue or Red. Each group had its own leader and bus for shore excursions. Departures were staggered or run in opposite directions so that we didn't overwhelm any particular venue. In some situations, such as museum tours, we were divided into even smaller groups.
Before dinner we gathered with our "Green Group" to meet each other and our group leader Debra. We received our ship documents plus a briefing on the following day's activities.
---
Click your "back" button to return to the previous page or click for our picture album.